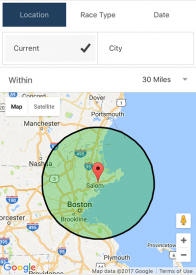 Boston, MA, August 9, 2017 – Kukimbe, the first comprehensive mobile application that puts races at a runner's fingertips, today announced the launch of version two for iOS devices, adding a target mobile marketing platform for brand partners and enhanced search capability for users.
Since launching its beta version in October 2016, Kukimbe has partnered with brands and race registration companies to seamlessly connect its users to an ever-growing race directory, content and products. Version two marks the next step forward in user experience.  Partnering brands will be able to engage potential customers with ads, relevant content, promotions and coupons through a compelling, interactive medium.
"We've purposely stayed away from traditional advertising within the app. Consumers expect to see relevant messages that meet their specific needs, not intrusive pop-up ads," said Kukimbe's co-founder Kelly Gerard. "Integrating products within our  directory that meet the needs of our health conscience users allows brands to engage and connect with potential customers in a more meaningful way."
In addition to events such as endurance races, Kukimbe's new platform can bring products such as shoes, gear and accessories directly to the user– simply by swiping through the app's "race cards".
"We knew we were on to something big when we built the app using geo-location technology," said Kelly Gerard. "With the rapid rise of target mobile marketing, businesses can get a leg up against the competition when they show up in search results for a certain product because it's nearby."
In addition to the target mobile marketing platform, users can now search Kukimbe's race directory with improved ease, accuracy and enhanced search functionality.  With an increase in partnerships with registration companies, like the recent addition of RaceWire, users have access to thousands of races across the country through the Kukimbe app, allowing them to easily bookmark, register and share.
For more information about the Kukimbe app, visit www.kukimbe.com.  For inquiries on brand or other partnerships email info@kukimbe.com.
About Kukimbe
Kukimbe uses technology to connect the running community.  The app features an ever-growing race directory with geo-location to connect runners with races of all types.  Kukimbe includes social media functionality in which runners can connect with their "running crew," and notify them about upcoming races.  Users can also shop for running gear and accessories with Kukimbe's partners and affiliates often at a discount.  Ultimately, the app will include a feature in which runners can earn points for completing races which will be redeemable for athletic gear or race registrations.
Contact
Kelly Gerard, Co-Founder & CEO
Kelly.Gerard@kukimbe.com
617-694-9735