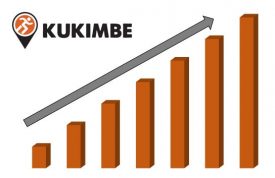 (Boston MA, May 3, 2018) – Kukimbe, the first comprehensive mobile application that puts endurance races at a runner's fingertips, announced today the launch of Kukimbe Insights. Kukimbe Insights provides Race Directors with insights about their participants' event experience, participant demographics, economic impact and effectiveness of sponsors for endurance events of any size.
"Our proprietary post race participant survey will allow race directors to see what went well and where their areas of opportunity are so they can take action and grow their event," said Kukimbe CEO Kelly Gerard. "We have partnered with Jason Jacobson, the CEO of Titanium Racing and the Director of Research for Running USA. Jason has over 20 years as a Marketing Research Executive and has a Doctorate in Consumer Behavior Theory. We are thrilled to be working with him on Kukimbe Insights," said Kukimbe CEO Kelly Gerard. 
Survey results from Kukimbe Insights will include both qualitative and quantitative information, including economic impact, regarding the event. The report will be packaged so it can be easily shared with city officials and sponsors. Pricing for Kukimbe Insights is tiered based on event participation, making it affordable for both small and large races.  Race Directors can work with Kukimbe to create a customized survey based on the unique aspects of their race. 
For more information on Kukimbe Insights visit http://kukimbe.com/grow-event.php
About Kukimbe
Kukimbe is a technology company that connects the running community.  The app features an ever-growing race directory with geo-location to connect runners with races of all types.  Kukimbe includes social media functionality in which runners can connect with their "running crew," post pictures, share races and get up to date news in the endurance world. Users can shop for running gear and accessories with Kukimbe's partners in the Shop.  Ultimately, the app will include a feature in which runners can earn points for completing races which will be redeemable for athletic gear or race registrations.    
About Titanium Racing, Inc.
Titanium Racing is a full service running experience production company with a mission of Inspiring their community to Get Up & Running. They have been creating special and memorable running experiences for nearly 20 years. Titanium is dedicated to community, charity and making races fun for the entire family. Races are encouraged from the most competitive athletes down to the weekend warrior.