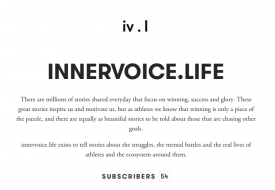 Site tells gritty stories through the 'inner voice' of endurance athletes
VANCOUVER, BC — July 26, 2016 — A new storytelling platform focusing on endurance athletes is making waves just a few days after launching. The first article posted on innervoice.life featured the 2016 Ironman Canada overall Women's Champion Steph Corker, and attracted more than 5,000 views in its first 48 hours.
Innervoice.life is the brainchild of NTSQ Sports founder Travis McKenzie, who is joined by NTSQ Sports colleague Nic Tickner, lululemon media specialist Dusty Allen, freelance photographer Chris Thorn and freelance sportswriter Cody Royle.
The new platform focuses on a mixture of world-class photography and gritty, emotionally provocative writing. "We kept coming back to the idea of uncovering the internal conversations that endurance athletes have with themselves as they train, race or recover from heartbreak" says Royle, the site's editor. "It's confronting, for sure, but we felt there was a real gap in the market to tell stories about the struggles and mental battles" he adds.
The site will produce features and photo essays on professional athletes, age-groupers, newcomers and others from around the triathlon and endurance sports ecosystem.
"I really like that our content is about athletes, but it's relevant to anyone. Steph Corker's article is a great example where we touched on global themes like failed relationships, body image and business ownership" says Royle.
As someone who both works and competes in the endurance sports industry, McKenzie says he has spent some time searching for a way to deliver content in a unique and innovative way. "At NTSQ Sports, we meet and work with incredible athletes every single day; to be able to share their stories is a privilege. A lot of the content in the market right now is the same.  I find myself being drawn to and relating to the stories of struggle, adversity and overcoming challenges. It makes it more real, and more relatable" he says.
To turn his vision into a reality, McKenzie brought together a team of individuals from across Canada the US and Australia. "The fact that I get to develop ideas and create stories with some of the most talented friends I have makes it all the more enjoyable.  We have the passion and drive to really make an impact on the endurance sports scene" he enthusiastically states.
Contact innervoice.life 
innervoice.life exists to tell stories about the struggles, the mental battles and the real lives of athletes and the ecosystem around them. If you know a great story that deserves to be told, we'd love to hear from you. Email us at stories@innervoice.life
Follow innervoice.life
IG: @innervoice.life