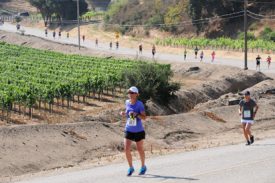 Registration for both events opens January 9; Special "early bird" pricing for half marathon
As runners wind through the flourishing vineyards and past fields of leafy green vegetables along the Salinas Valley Half Marathon route this coming August, another group of runners and walkers will be enjoying the final miles of the course on a newly-established 5K fun run.
The inaugural Salinas Valley 5K will offer family members and others the opportunity to be a part of the action. Geared to both fast runners and families with children, the 5K features a scenic out-and-back route from the half-marathon finish at Pessagno Winery. Finish festivities will include music, MY Museum activities for young children, wine tasting for adults, and a fund-raising tri-tip barbecue catered by the Salinas Toro Bulls.
"We recognize that families are an important part of many runners' lives and want to offer an opportunity for all members to participate," said Doug Thurston, executive director of the Big Sur Marathon Foundation and race director of the Salinas Valley races.
Registration for the Salinas Valley Half Marathon and 5K opens on Tuesday, January 9, with an 'early bird' special registration discount. Costs for the half marathon will be $80 ($70 for youth 12-20) through the end of January. Costs for the 5K are $30 for adults 18 and over and $25 for 5-17 years old. The 5K is limited to the first 250 registrants (no early bird discount for 5K).
The Salinas Valley Half Marathon, now in its 9th year, is organized by the Big Sur Marathon Foundation whose mission is to create beautiful running events that promote health and benefit the community. The 13.1 mile course is a scenic route beginning at the historic Soledad Mission and encompassing rich agricultural lands. The finish takes place at Pessagno Winery along the River Road Wine Trail.
For more information on the Salinas Valley Half Marathon, visit www.salinasvalleyhalfmarathon.org.