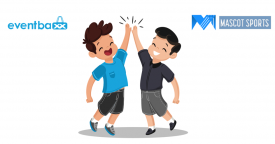 San Francisco, CA and Saarbrücken, Germany – eventbaxx, the leader in digital race bags is proud to announce a partnership with Mascot Sports, a leader in sponsorship and experiential marketing.
Following the recently announced cooperation between eventbaxx and RunSignUp Mascot Sports will be the first partner to profit from the technical integration linking both solutions.
Starting with the Oaktown Half Marathon that will re-launch under its original founder this year eventbaxx will implement its digital race bag to offer sponsors a new channel and connect them with the participants of the event. Additionally, the Oakland Turkey Trot will be one of the mutual races that are planned in the upcoming months.
The eventbaxx system has been proven to deliver improved customer satisfaction and provides an attractive online and mobile channel for sponsor revenue for races. Marc Grewenig, co-founder of eventbaxx said, "After entering the US market along with the cooperation with RunSignUp we are proud to partner up with a renowned company like Mascot Sports. We are looking forward to helping Mascot Sports in expanding benefits to sponsors while providing deep ROI with our solution."
"We are always looking for new ways to improve our races with innovative solutions like eventbaxx. After hearing about the partnership with RunSignUp we were quickly convinced by the solution and are looking forward to a great partnership," said Ryan Dawkins, CEO of Mascot Sports.
Learn more about eventbaxx at https://www.eventbaxx.com/activate-sponsors-runsignup.
About Mascot Sports:
Mascot Sports is a leader in sports and experiential marketing igniting the rally for innovation through brands, athletes and events. Based in Oakland, Mascot Sports was founded in 2017 by veteran endurance sports executive and competitive triathlete Ryan Dawkins, also the recipient of Acquisition International's 2015 Business Excellence Award for "Best CEO in the Events Sector." Mascot represents brands, event properties and athletes in the areas of sales, sponsorship, marketing, digital media and strategic consulting. Current clients include: Spartan Race, 24 Hour Fitness, Clorox, Denver Broncos, IndyCar driver TJ Fischer and former professional cyclist and 4-Time U.S. National Road Race Champion, "Fast" Freddie Rodriguez. For more information, please visit: mascotsports.com.
About eventbaxx:
Founded in 2015, eventbaxx technology enables race organizers to enhance digital communication and sponsorship opportunities with incredible feature possibilities. The tailor-made solution always delivers amazing performances by providing real time return-on-investment analysis and evaluation. eventbaxx is used by leading race organizers such as BMW Berlin Marathon, Swiss City Marathon, Red Bull, Golazo, The Color Run, Infront B2Run Series, Wings for Life World Charity Run and many more. For more information, visit eventbaxx.com.