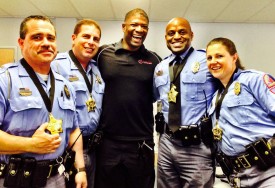 Ted and Lennd.com's Chris Carver discuss the evolution of event safety and security, his idol Bill Bellamy and more.
Lennd.com's Co-Founder & CEO sat down with Competitor Group's Ted "The Man" Metellus to un-ravel the details of location scouting for a major mass participation event. As Director of Course Operations for the Rock N' Roll Marathon Series, Ted gives his insights and tips on how to put yourself and your team in the best position to have a safe and secure event.
Ted discusses everything from the importance of building strong relationships with local authorities, to finding the balance between leading by example and letting others get in the back of the truck, so he can have a larger vision for the event.
"Ted is the epitome of a leader who loves what he does and loves who he works with. This is one of those interviews that everyone can learn from" says Chris Carver.
CLICK HERE TO READ TED'S INTERVIEW
Sea Otter Classic: Frank Yohannan, Founder (READ)
Los Angeles Marathon: Murphy Reinschreiber, VP of Operations (READ)
Big Sur Marathon: Doug Thurston, Event Director (READ)
Summit Series: Cara Bubes, Event Director  (READ)
Color Run: John Connors, VP of Experience (READ)
TechCrunch Disrupt: Leslie Hitchcock, Event Director (READ)
Boston Marathon: Matt West, VP of Operations (READ)
Academy Awards: Cheryl Cecchetto, Production Director (READ)
RunningUSA: Christine Bowen, Event Director (READ)
Charity Ball & Charity Water: Lauren Letta, Chief of Staff (READ)
Electric Run: Latane "Big Bird" Meade, Co-Founder  (READ)
Color Run Australia: Luke Hannan, Event Director (READ)
About Lennd
Lennd is an operations and workforce management platform for events. We're currently in a private beta with some of our favorite events around the globe, but if you want to sign up for early notice as we bring on more events and organizations, you can do that here.