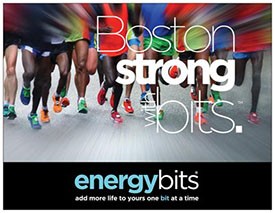 Be Strong for Boston. Be Healthy for You.
Boston, MA, April 16, 2013: The shock of the 2013 Boston Marathon bombing was felt around the world. A year later, the incident has left both the running and Boston communities more united than ever and is a testament to the strength of the human spirit and heart.  Attendance at the 2014 Boston Marathon is evidence of that and is expected to set a world record with over 100,000 anticipated at the Expo. ENERGYbits®, a Boston-based company whose plant-based fuel is loved by runners will be exhibiting for the first time at this year's Expo to welcome the runners and community back.
ENERGYbits® knows it's not easy to run any distance let alone the 26.2 miles in a marathon. Their spirulina tabs make it easier and they have quickly become a runner's dream fuel. Catharine Arnston, Founder and Chief Executive Officer of ENERGYbits Inc. explains, "The sole purpose of our company is to help consumers and athletes be energized and healthy naturally. We sell algae because it's the fastest, easiest, safest, and most natural way to do it. Spirulina algae has been used for fifty years by Olympic athletes and is endorsed by both NASA and The United Nations as the most nutritionally dense food in the world.  Runners love it because it gives them a steady supply of energy without chemicals, sugar, caffeine or stomach distress."
ENERGYbits® are a 100% plant-based fuel that have the highest concentration of protein in the world. Swallowing a handful delivers a steady stream of energy, all naturally and all without sugar, caffeine, chemicals or stomach distress. ENERGYbits® are also the only protein in the world that contains natural antioxidants to reduce muscle inflammation, Essential Fatty Acids such as Omega 3 to improve focus,  iron to prevent fatigue, chlorophyll to build the immune system, and electrolytes to replenish mineral imbalances. No other protein or fuel source offers all this or helps you perform better or recover quicker. Fueling with real food is the best way to improve any runner's or consumer's health and performance. Algae makes it possible. ENERGYbits® makes it easy.
To learn more about ENERGYbits® and to get your FREE sample, be sure to visit ENERGYbits® at the Boston Marathon Expo, booth number 1934. The Expo is FREE for all consumers and runners and is held at the Hynes Convention Center, 900 Boylston St. Boston, just a few blocks away from the Boston Marathon Finish Line. Expo hours are Friday April 18, Noon – 7 pm, Saturday April 19, 9 am – 7 pm and Sunday April 20, 9 am – 6pm.  For more information about the Expo visit www.sportsfitnessexpo.com. For more information about ENERGYbits® visit www.energybits.com
Be strong for Boston. Be healthy for you.
About ENERGYbits, Inc.:
ENERGYbits Inc is wholly-owned subsidiary and sports nutrition division of Bits of Health, a five year old  nutritioncompanybasedinBoston,MA,thatismakingalgae easytounderstandandeasytotake.ENERGYbits Inc. sells fourbrandsofalgaebitsthatare swallowed (or chewed) bythehandful,ENERGYbits®,RECOVERYbits®,SKINNYbits®andVITALITYbits®, each  providingdifferenthealth benefits. Please visit the company's website to learn morewww.energybits.com.
-end-