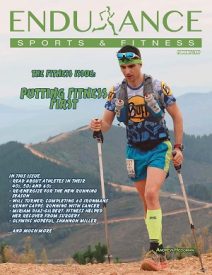 The Fitness First Issue focuses on the value fitness plays in our lives
Washington DC – Endurance Sports & Fitness Magazine (ES&F), a globally-distributed magazine focusing on all aspects of ultra-distance running, cycling, triathlon and adventure racing is excited to announce the launch of the February 2018 Issue of the Magazine.
The issue, entitled "Fitness First," features athletes predominately in their late 50's and 60's who are established endurance athletes and who've overcome adversity to become who they are today.
"I am always floored by the things my athletes do," said Alix Shutello, CEO and Publisher of Endurance Sports and Fitness Magazine (ES&F). "One of our Feature articles is about an endurance triathlete named Will Turner who not only turned 60 this January,  but is on a quest to complete 60 Ironman-distance races! That is just incredible."
ES&F covers all types of topics related to performance training and race distances including the half marathon, marathon, ultra-marathon, and other endurance racing of all kinds including swimming, canoeing, stand-up paddling, adventure racing, triathlon and running.  The publication includes Coaches Corner, the Endurance Science column, commentary section, gear reviews and rotating features and athlete profiles covering race reports, philanthropy, eating best practices for endurance running, training, the mental aspects of fitness and endurance training.
In 2018 the magazine's motto is to increase awareness of publication and to continue to grow its advertising networks and reader base. The strength the magazine, Shutello says, is based on the building the conversation online in between issues. ES&F and its affiliate partner, Executive Athletes, have a combined reach of over 60,000 engaged professional athletes. This doesn't include the audience both partners capture on their social media channels.
"I take great pride in my social media channels," Shutello said. "People who know me know that I take a personal approach to outreach and make sure that when I can, I will be there for my athletes. For example, I found Miriam Diaz-Gilbert on Twitter. I reached out to her and we not only developed an engaging personal story of her quest for fitness, but we also captured her very personal story of a surgery which could have ended her life. I am so happy to know her and support her."
###
About Endurance Sports & Fitness Magazine (ES&F)
ES&F covers content on all aspects of endurance racing and training. Our stories discuss the mental aspects of training, nutrition, books, gear, race calendars and more. Our magazine offers more than just content; we also offer advertising, marketing and ad design services. We also have a prolific following on Facebook and LinkedIn. ES&F publishes 6 times a year. Issues are published in February, April, June, August, October and December. To learn more, visit EnduranceSportsandFitness.com. I addition to building awareness, ES&F is also looking to raise seed money to add more reporters, columnists and photographers to the publishing team. To do this, ES&F started a GoFundMe campaign. To learn more about Endurance Sports and Fitness Magazine, visit EnduranceSportsandFitness.com. All past digital issues can be found on Titlestand.