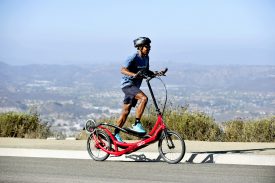 SAN DIEGO, CA (November 2, 2017) – As Meb Keflezighi makes his final preparations for his last marathon, the New York City Marathon this Sunday, ElliptiGO celebrates its four-year partnership with the four-time Olympian.
Keflezighi became a member of the ElliptiGO family in January 2013, joining the company as a spokesperson of the revolutionary ElliptiGO elliptical bicycle. Keflezighi believed in order to continue performing at the highest level, he needed to evolve his training and reduce the amount of pounding on his legs. He discovered the ElliptiGO bike, which provides runners with a low impact, heart pumping, running-like motion, making it the ideal cross training tool for injured, healthy and former runners alike. After one ride, Keflezighi was hooked.
A year after integrating the ElliptiGO bike into his training, Keflezighi ran his heroic 2014 Boston Marathon win, one year after the bombings. He also set his Marathon PR of 2:08:37, two weeks before his 39th birthday. To celebrate his exceptional running career and to recognize the impact his Boston win had for the entire country, ElliptiGO partnered with Keflezighi to produce the company's popular, limited edition "Meb 8S" elliptical bike.
2016 marked another banner year for Keflezighi, when he qualified for his fourth Olympic Games in Rio de Janeiro, making him the oldest American distance runner ever to make an Olympic team. As with his preparations for other races, Keflezighi used the ElliptiGO bike to gain extra fitness and stay injury-free without the pounding of running.
Regardless of Keflezighi's performance this weekend, he's the only runner to ever win an Olympic medal, the New York City Marathon and the Boston Marathon and his legacy will live forever.
"We've been blessed to support Meb in the latter stage of his career, and have been truly honored to have him as a partner and advocate for low impact cross-training," said Bryce Whiting, Chief Enthusiast at ElliptiGO. "Meb has touched countless lives, inspiring and helping extend the running lives of athletes, young and old, competitive and recreational. We can't think of a more unifying figure in the sport of running than Meb Keflezighi, and we wish him the best of luck at the New York City Marathon."
About ElliptiGO
ElliptiGO Inc. created the world's first elliptical bicycle to deliver a fun, comfortable and effective workout experience that inspires people and improves their lives. Combining the best of running, cycling and the elliptical trainer, ElliptiGO bikes deliver a strong cardiovascular workout that eliminates impact on joints and allows people to get out of the gym and enjoy the outdoors. Elliptical cycling is an effective way to build fitness without aggravating injuries, and it is great for everyone from the weekend warrior to the elite athlete. The full line of ElliptiGO bikes is distributed through specialty running, cycling and fitness retailers nationwide and through the ElliptiGO headquarters outside San Diego. www.elliptigo.com
* * *