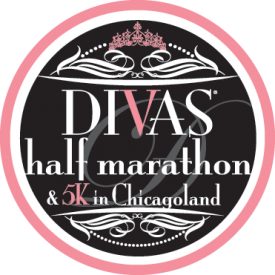 Women's focused event features innovative new medal and event
Miami, FL-  The Divas® Half Marathon & 5K, a glam women's focused fun run, will take place in Chicagoland on April 30, 2017. The inaugural event will feature a brand new medal that includes a PANDORA® compatible charm. The race is set to provide a weekend full of empowerment for Divas and those who support them. The race will begin and finish at Paulus Park.
"I believe that this is a true gem of a city.  It is so beautiful running around the lake and the neighboring estate homes.  The Midwest has always drawn our attention and now, that the race has a home here, we are delighted to start what will be one of many events to come," says Robert Pozo, Executive Race Director, "The city, the parks department and the police is truly ready for the running of the divas!".
The Divas® series recently unveiled its finish medals for 2017 featuring a jaw-dropping design along with jewelry compatible with bracelets from well-known brand Pandora®. Now finishers of all distances, half marathon and 5K, can proudly display their achievement in jewelry form by wearing the charm. Rather than wearing the medal on race day alone, they can wear the charm for as long as they'd like. If that isn't enough, the Divas® medals will be presented to participants in custom, reusable Divas® jewelry pouches.
Participants from all over the country, from as far as Washington State and Florida, will be traveling to Chicagoland for a weekend full of Diva festivities. With less than 100 spots left in the 5K as of early April, a sellout crowd is anticipated.
The weekend starts with an all-day Health & Fitness Boutique at the May Whitney Elementary School featuring exhibitors showcasing the latest trends, designs, and advances in running shoes in apparel on Saturday from 9:00 A.M. – 7:00 P.M at May Whitney Elementary. The half marathon will take place Saturday morning at 8:00 AM with the 5K starting shortly after at 8:20 A.M.
Divas will also receive women's fit tech tees, tutus, boas, tiaras, and a "first of its kind" medal with a detachable Pandora® compatible charm. Space is limited; for more information, or to register, please visit www.runlikeadiva.com.
###
About The Divas® Running Series:
The Divas® Running Series is a group of female-inspired running events throughout the United States consisting of a Health & Fitness Boutique, a 5K road race and a half marathon race and finish line ex. Each of the Divas® events consists of additional activities geared toward women including a boa & tiara station, "bubbly" toast at the finish and fun entertainment along the course. Now in its eighth year, the race series received the highly coveted SportsTravel Award for Best Amateur Series or Circuit in 2012, 2013 and 2016. Event locations include Galveston, TX, North Myrtle Beach, SC, Chicagoland, IL, San Francisco Bay, CA, Toronto Island, Canada, Peachtree City, GA, DC's Wine Country, VA, Long Island, NY, San Juan, PR, and Temecula, CA.  For more information, please visit: www.runlikadiva.com.
About Continental Event and Sports Management Group, LLC:
With world-class running events such as the Divas® Running Series and the Myrtle Beach Mini Marathon, Continental Event and Sports Management Group, LLC is one of the premiere sports management companies in the United States. Robert and Gaby Pozo, founders and managers of Continental, have over 17 years of experience in the race production industry providing unparalleled events to participants and their host communities.
Contact:
Michelle Muller
Continental Event & Sports Management Group LLC
mmuller@usruns.com