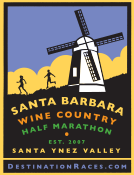 April 16, 2015—Sonoma, California – The Wine Country Half Marathon Series, sponsored by Newton Running and produced by Destination Races, kicks off its 2015 season Mother's day weekend in Santa Barbara on May 9, 2015.  Early May offers runners the perfect time of year to visit this spectacular region where they will enjoy unforgettable experiences on and off the course, including Destination Races signature Post-race Wine + Music Festival in Solvang Park.
Newton Running is back for the second year as the series Presenting Sponsor; Alaska Airlines has become the Presenting Sponsor of the Wine and Music Festival; Fitbit as the market leader in connected health and fitness, CamelBak hydration systems, GU Energy Labs athlete nutrition and SOLS' custom 3D printed insoles are also new to the Series this year and will extend their partnerships to 2016 and 2017. Each sponsor will offer a unique and captivating experience to the Santa Barbara Wine Country Half Marathon.
A point-to-point course, the half-marathon kicks off at 7:00am in downtown Santa Ynez. An ideal destination for your next running experience, this scenic course winds through Santa Ynez Valley bordered by vineyards and the Sierra Madre Mountains. Carrying you past horse ranches, fruit orchards, and lavender farms, the breathtaking backdrop continues through the quaint town of Los Olivos before finishing in the heart of historic downtown Solvang.  A perfect pick for an early spring half marathon.
With a weekend full of activities for family and friends, celebrate post-race with an expanded Wine & Music Festival in Solvang Park, presented by Alaska Airlines.This year's festival offers over 15 wineries and local breweries, along with live music, all set in the center of charming downtown Solvang. Invite friends and family to celebrate and plan ahead by purchasing tickets early, as the event sells out every year. In addition to festival events, the greater Santa Barbara area offers incredible beaches, hiking, biking and running trails, historic towns and missions, shopping and restaurant options, and countless wineries and tasting rooms to enjoy during your weekend stay.
The race is capped at 3,300 runners to provide for a more exclusive, intimate experience for runners. With the start and finish in small towns and a course that runs on country roads past vineyards, wineries, ranches, fruit orchards and historic buildings, there are just enough people to house adequate enthusiasm and energy, without the atmosphere feeling overwhelming.
"We get such a boost from the energy emanating from the participants at the start, on the course, and at the Wine & Music Festival," states Race Director, Matt Dockstader. "The scenery and weather are magnificent in the Santa Ynez Valley this time of year. This is the ideal race to kick off the event season." Destination Races expects the usual sell out, as only a few hundred spots remain.
In addition to the half marathon, runners can also choose to enter the two-person relay option, allowing runners to share the course, where they make the transition in the town of Los Olivos near the six-mile mark. Runners can also form a team of six or more, which allows runners to save $10 on registration and enter the USATF handicapped team competition with a chance to win wine and other prizes.
Participants are reminded to book travel and lodging now to avoid predicted sell out of rooms in San Ynez Valley on Mother's Day weekend.  Fly Alaska Airlines, Official Airline of Destination Races, and save 10 percent on flights to the race. Visit the Race Travel page for more information (http://destinationraces.com/runsb/travel/getting-here/).
To register for the race and sign up for special events and activities, visit destinationraces.com/runsb.
SCHEDULE OF EVENTS 
Thursday, May 7th:
The Welcome Reception kicks off the weekend at the new Alma Rosa tasting room in Buellton from 5:30pm-7:30pm. An olive tree named "Olivia" sits under a 24" skylight to highlight this magical new location. It is the perfect setting to start the weekend, offering great wine and light appetizers.  Tickets to this special event are available here: Run Santa Barbara – Race Extras.
Friday, May 8th:
The Race Expo will be held at Hotel Corque in Solvang from 10:00am-7:00pm.  Use this opportunity to pick up your race packet (including personalized bib, timing chip, and race shirt), visit exhibitor booths, shop for official race apparel and accessories, attend wine pairings, and learn about the course and developing race day strategy at the Race Orientation Seminar at 2pm. 
Saturday, May 9th:
Race start is scheduled for 7:00am on Sagunto St (Santa Ynez) with the finish on Copenhagen Drive (Solvang) and awards ceremony to follow at 10:30am. After the race, join the festivities at the Wine + Music Festival in Solvang Park from 9:30am-12:00pm.
Local Charity Involvement
The Santa Barbara Wine Country Half Marathon benefits local charities and organizations including Project Hope, the Santa Ynez Valley Union High School and Santa Barbara Foodbank. Participants can visit the Charities & Fundraising page for more information about the charity partners. If you would like to support one of these organizations by volunteering on race weekend, please contact mindi@destinationraces.com.
For all other media inquiries about Destination Races and the Santa Barbara Wine Country Half Marathon, please contact ModCraft:
Shanna Burnette
shanna@modcraftstudio.com
303-601-5177
About Destination Races: Destination Races, based in Sonoma, California, is the pioneer producer of the Wine Country Half Marathon Series. Founded in 2004, the Wine Country Half Marathon Series consists of seven races across prestigious wine regions in North America. Offering unforgettable experiences on and off the course, including the popular post-race wine and music festival, runners travel far and wide for these boutique destination races. The race series attracts elite runners as well as food and wine enthusiasts who share their common bond of running and celebration. The Wine Country Half Marathon Series has limited fields in each event to ensure the participants and their guests can enjoy all the race weekends have to offer, including exclusive winery tours, plus receptions and dinners featuring the local bounty at esteemed wineries and other unique venues.
Current races include – Santa Barbara, Northern Virginia, Napa-to-Sonoma, Oregon (Willamette Valley), Kelowna, B.C., Healdsburg, and Temecula Valley, CA. 
For more Information on the event series and Destination Races, go to http://www.destinationraces.com, Friend them on Facebook and follow them on Twitter @winecountryhalf and see exclusive race images on Instagram.