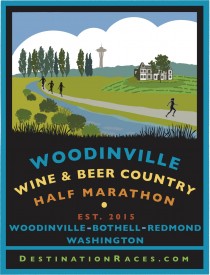 Event to Showcase Local Wine and Craft Beer Experience at Inaugural Woodinville Wine & Beer Country Half Marathon
September 3, 2015 – Sonoma, CA – Destination Races, producer of the Wine Country Half Marathon Series, presented by Newton Running, will debut the inaugural Woodinville Wine & Beer Country Half Marathon on Saturday, September 19th.   Located just 30 miles east of downtown Seattle, WA, the Woodinville Wine & Beer Country Half Marathon is the first event to include an equal focus on craft beer and wine in this popular series of eight wine-centric events in North America.  The events are designed as a weekend getaway for people with an active lifestyle and passion for fine wine and culinary experiences.  The area was chosen for its abundance of recreational activities, scenery, and local bounty, including over 100 wineries, microbreweries, distilleries and restaurants.
The race starts at 7am at the famed Chateau St. Michelle in Woodinville, the oldest winery in Washington State. This flat and fast course runs northwest for 4 miles into the city of Bothell, where it then crosses over the Sammamish River and joins the Sammamish River Trail as it meanders along the river through Woodinville and finishing 13.1 miles later in Redmond at the City Hall Campus.  The event is produced in partnership with Woodinville Wine Country Association and Experience Redmond.
The post-race celebration begins next to the finish line in Redmond as runners are treated to Destination Races signature Wine & Music Festival, presented by Alaska Airlines. A dozen local wineries will pour at the festival, along with a handful of craft breweries from 9:30am to noon. Each participant receives a complimentary event wine glass, and the festival offers health and wellness exhibitors, brunch and live music.  Participants have a unique opportunity to interact with the Destination Races series sponsors at the festival, including Newton Running, Alaska Airlines, Fitbit, CamelBak, GU Energy Labs and SOLS custom 3D printed insoles.  Each sponsor adds exclusive and captivating elements to the Woodinville Wine & Beer Country Half Marathon.
The first ever Woodinville Race Expo will be held at The Market Pavilion at Marriott in Redmond on Friday, September 18th.  The Race Expo will offer race packet pickup, a chance to meet exhibitors and race sponsors, shopping for race apparel and gifts, a chance to learn about the course and race preparation at the Race Orientation Seminar. An early packet pickup option is available on Thursday at the REI flagship store in downtown Seattle.
Registration is currently still open for the half marathon race event. In addition, Destination Races also offers an option to run the half marathon distance as a 2-person relay, with the transition point  at roughly half way in Woodinville's Wilmot Park .  To register for the half marathon or a 2-Person Relay Team, visit the Registration page on the Woodinville Wine & Beer Country Half Marathon website.
Race participants are able to invite guests to the Wine & Music Festival so that friends and family can join in the post-race celebration as well.  Destination Races also offers a welcome reception, pre-race dinner, and finisher's celebration that can be purchased as an addition under Race Extras on the event website.
Fly Alaska Airlines, Official Airline of Destination Races, and save 10 percent on flights to the race. Visit the Race Travel page for information.
To register for the race and sign-up for special events and activities, visit http://destinationraces.com/runwoodinville/registration/.
SCHEDULE OF EVENTS
Thursday, September 17  
Early Packet Pickup at the REI flagship store in Seattle 3:00 – 7:00pm
For Seattle residents, or visitors who are in town early enough, the REI flagship store in Seattle will be hosting an early packet pickup. 
Friday, September 18 
Race Expo at the Market Pavilion at Marriott 10:00am-7:00pm
Located at the Market Pavilion at Marriott in Redmond, the Race Expo will feature race packet pickup, a chance to meet exhibitors and race sponsors, shopping for race apparel and gifts, a Race Orientation Seminar and the opportunity to attend other inspiring seminars and discussions. 
Pre-Race Dinner at the Woodhouse Wine Estates 6:00-8:00pm
Dine and mingle with Destination Race Director and fellow runners, including Elites and other VIPs during this festive evening. Located in the heart of Woodinville Wine Country, The Woodhouse Wine Estates is proud to be a family-run winery that blends international flair and quality into its award-winning Washington wines. Participants will get to sample some of the best Pacific NW wines and dine on some of the finest Pacific NW cuisine. Cost $65.
Saturday, September 19
Race Start at Chateau Ste. Michelle Winery 7:00 am 
Post-race Wine & Music Festival at City Hall Campus, Downtown Redmond 9:30 am – 12:00 pm
Once you cross the finish line, the celebration gets underway with the Post Race Wine & Music Festival in downtown Redmond!  There will be over a dozen wineries pouring, health and wellness exhibitors, brunch, and live music. This event is open to guests so bring your friends and family to celebrate with you. Wine glasses for guests may be purchased through Race Extras. 
Finisher's Wine Walk 2:00-5:00pm
After the Post-Race Wine & Music Festival, join an afternoon of exploring the growing wine industry, in the thriving Woodinville Warehouse Winery District. This event will include wine tasting and transportation from Redmond and Woodinville, each location will have a dedicated pick up location, to Woodinville's superb Warehouse Wineries.  Participating tasting rooms will be creating a unique and interactive experience for our guests, showcasing the signature varietals of Washington. Cost $40.
Ticket includes:
Access to more than a dozen wineries
20 tasting tickets
Wine glass
Transportation from Redmond or Woodinville *Select locations to be announced
Enjoy this relaxing afternoon, discovering new and exciting tasting experiences, with friends, family, and fellow runners!
Charity Partners
The Woodinville Wine and Beer Country Half Marathon benefits local charities and organizations including Crohn's & Colitis Foundation of America – Northwest Chapter and the Lil' Bit Therapeutic Riding Center of Woodinville.  Participants can visit the Charities & Fundraising page for more information about the event's charity partners. If you would like to support any of our local charities and organizations by volunteering on race weekend, please contact mindi@destinationraces.com
About Destination Races
Destination Races, based in Sonoma, California, is the pioneer producer of the Wine Country Half Marathon Series. Founded in 2004, the Wine Country Half Marathon Series consists of eight races across prestigious wine regions in North America. Offering unforgettable experiences on and off the course, including the popular post-race wine and music festival, runners travel far and wide for these boutique destination races. The race series attracts elite runners as well as food and wine enthusiasts who share their common bond of running and celebration. The Wine Country Half Marathon Series has limited fields in each event to ensure the participants and their guests can enjoy all the race weekends have to offer, including exclusive winery tours, plus receptions and dinners featuring the local bounty at esteemed wineries and other unique venues.
Current races include – Santa Barbara, Northern Virginia, Napa-to-Sonoma, Oregon (Willamette Valley), Kelowna, B.C., Woodinville, WA, Healdsburg, and Temecula Valley, CA.
For more Information on the event series and Destination Races, go to http://www.destinationraces.com Friend them on Facebook and follow them on Twitter @winecountryhalf and see exclusive race images on Instagram.