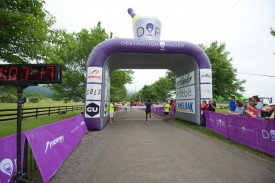 Sonoma, CA – June 3, 2015 – The 5th Annual Virginia Wine Country Half Marathon, presented by Visit Loudoun and Newton Running, was highlighted by beautiful weather and an artful combination of culinary and running expertise. The event is produced by Destination Races, of Sonoma, California.
Offering something for every pallet, the event featured a post-race Wine and Music Festival at Doukenie Winery with wine tasting from 14 local vintners and culinary options. Complimented with ideal weather, the event made for a picturesque combination of food, wine and running through the scenic and historic Virginia countryside.
A featured guest speaker, participant and well-renowned chef Will Artley added his touch of culinary mastery to the event. A chef for 22 years, Artley boasts a degree from the Culinary Institute of America and a Masters in Artisan Bread. He is one of the few chefs who have had the honor of being invited to the White House.  Adding to his impressive resume, he was Runner Up on the show "Chopped", as well as being voted best chef in Virginia.  He is currently chef at BLT steak restaurant in Washington D.C.
Following the collection of countless cooking accolades, Artley found himself weighing 365 pounds. With a long list of health problem diagnoses, he made the brave decision to start running by competing in his first half marathon. Although he barely finished in a time just over 4 hours, Artley became instantly hooked on running.  He has since lost 75 pounds, and completed 13 half-marathons, 3 full marathons, 1 ultra-marathon, and 2 half-IRONMANS. He is proud to boast a clean bill of health and a newfound passion for running and overall fitness, offering his story as one of inspiration to runners attending the event.
Accompanying Artley in the seasoned line-up of guest speakers was vegetarian and ultra-marathoner, Mike Wardian. Wardian owns several records in the Guinness Book of World Records, including the fastest marathon time pushing a baby stroller and the fastest marathon on an indoor track. Wardian is also a 3-time Olympic Trials marathon qualifier. Now 41-years old, he is married with two children and holds a full-time job as an International shipping broker, fitting his extensive training regimen around his busy life.  Wardian was the 5th place male finisher at this weekend's half marathon and even stopped to have a taste of Traminette, the wine offering by Hiddencroft Winery at mile 6. "Running this race was really a treat for me", said Wardian.  "I had a lot of fun and hope to run more Wine Country Half Marathons but I will need to pick up the pace if I am going to compete here."
In a competitive men's field, 21 year old Wegi Habtamu won with a time of 1:07:21, besting fellow Ethiopian Abu Diriba by just over a minute. William Christian of Norfolk< VA finished third in a time of 1:09:07. The women's course record was shattered by over three minutes as Ethiopian Dehininet Jara crossed the finish line in 1:16:10. Hirut Guangul (Ethiopia) finished 2nd with a 1:18:34, and Kara Waters from Great Falls, VA took third place.  Breaking the course record earned Dehininet a bonus check, first place trophy, wine and first place check.
This wine-themed race is the only East Coast location for the popular Wine Country Half Marathon series. The race starts and finishes at Doukénie Winery in DC's Wine Country, Loudoun County. The festival also included the awards ceremony, exhibitors, local food vendors and live music. REI offered a luxury camping experience at Doukenie whereby runners could wake up to fresh coffee, and light breakfast a short walk from the tasting room.
The Virginia Wine Country Half Marathon raised money for a number of charitable organizations.  This year's beneficiaries include Special Olympics Loudoun County, Girls on the Run of Northern Virginia, Project Hope and Loudoun County Road Runners. "We've been able to create a unique experience here in the beautiful countryside of Northern Virginia.  Our speakers and special guests, which included a celebrity chef, a record setting endurance athlete and a physical therapist from Integrated Sports Medicine, added another element to amazing weekend," said Destination Races President and Race Director, Matt Dockstader.
The Virginia Wine Country Half Marathon is produced by Destination Races of Sonoma, California. The Wine Country Half Marathon series consists of seven races including Santa Barbara, Northern Virginia, Napa-to-Sonoma, Oregon (Willamette Valley), Kelowna, B.C., Healdsburg, and Temecula Valley, CA. For more information on the Virginia race and results, go to Virginia Wine Country Half Marathon.
About Destination Races
Destination Races, based in Sonoma, California, is the pioneer producer of the Wine Country Half Marathon Series. Founded in 2004, the Wine Country Half Marathon Series consists of eight races across prestigious wine regions in North America. Offering unforgettable experiences on and off the course, including the popular post-race wine and music festival, runners travel far and wide for these boutique destination races. The race series attracts elite runners as well as food and wine enthusiasts who share their common bond of running and celebration. The Wine Country Half Marathon Series has limited fields in each event to ensure the participants and their guests can enjoy all the race weekends have to offer, including exclusive winery tours, plus receptions and dinners featuring the local bounty at esteemed wineries and other unique venues.
For more Information on the event series and Destination Races, go to http://www.destinationraces.com. Friend them on Facebook and follow them on Twitter @winecountryhalf and see exclusive race images on Instagram.
About Doukénie Winery
Located near historic Leesburg, Virginia, in the town of Purcellville, Doukénie Winery is made up of 425 acres nestled in Loudoun County, Virginia's famed "wine country," just 60 miles from Washington, DC. This wine farm provides visitors and locals an escape from reality while increasing their knowledge of wine and wine making. Founded in 1985 by the Bazaco family, Doukénie Winery produced its first vintage in 1995 and within the last several years has received numerous prestigious awards. Doukénie Winery produces 4,000 – 5,000 cases per year and production consists of five white wines, one fruit wine and nine red wines. Wine can be purchased through the winery's Heritage Club or at the winery. To learn more, go to www.DoukénieWinery.com; follow us on Facebook and Twitter @doukéniewinery.
About Visit Loudoun
Visit Loudoun is the destination management organization for Loudoun County, VA, known as DC's Wine Country®, located 25 miles from Washington, DC. This not-for-profit organization develops and implements programs that promote tourism and travel to Loudoun and its towns, to increase visitation and generate visitor spending. The organization showcases Virginia's culinary and heritage assets, including award-winning vineyards, horse country, scenic byways, and towns and villages steeped in history. Visit www.VisitLoudoun.org for more information. Contact: Jennifer Sigel, sigel@visitloudoun.org.