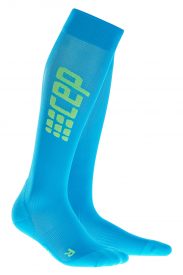 Whitsett, NC — CEP Compression, a world leader in performance compression socks and sportswear is thrilled to announce that the company's Progressive+ Ultralight Socks have received Gear of the Year from Men's Health Magazine. Delivering a best-in-class mix of ultra-lightweight fabric, optimal heat and moisture management and durability, the Progressive+ Ultralight outperformed every other sock in its category.
The Progressive+ Ultralight Socks are made in Germany and feature CEP's proprietary compression technology, for maximum performance, improved coordination and faster recovery. Specifically developed with Olympic Marathon Runner and CEP athlete, Meb Keflezighi, these socks are 30% lighter in weight than the traditional 2.0 Socks while still delivering the same benefits and performance compression profile.
Offering extreme durability, the Progressive+ Ultralight Sock didn't wear down or lose fit after rigorous testing and washes and all CEP socks are guaranteed to last over 200 wears. Ideal for a variety of climates, the Progressive + Ultralight provide optimal heat and moisture management as well as antibacterial and odor-reducing properties. Due to a perfect ergonomic fit, CEP socks will never rub or cause blistering.
CEP is rooted in nearly a half-century of German design and innovation in medical compression technology. The company's proprietary compression profile improves blood flow, reduces muscle soreness and quickens recovery time, making it the perfect product for runners and athletes of all abilities.
The Men's Health Gear of the Year Award is presented to products in recognition of their outstanding innovation in design, materials and performance. Each honoree has been selected from hundreds of items tested by Men's Health gear experts.
For more information about CEP visit cepcompression.com.
About CEP Compression:
CEP is a high-end sports brand that incorporates medical expertise in its innovative, high-quality product concepts that help wearers enhance their athletic performance and stay healthy. What makes CEP such a unique sports brand is its access to state-of-the-art production standards "Made in Germany" thanks to its parent medi, one of the leading companies in the healthcare market, headquartered in Bayreuth. medi works together with acclaimed scientists, sports physicians and athletes to develop special technologies and features that give all products in the CEP collection a unique effect. CEP is famous for its legendary compression legwear optimized for running and now offers a wide range of performance-enhancing products from socks and high-tech functional sportswear to the new Ortho+ product line. Find out more at: cepcompression.com.