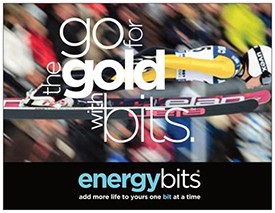 ENERGYbits® Honors Athletes at 2014 Sochi Winter Games
January 6, 2014. BOSTON, MA:  In the days prior to social media, you had to be a large corporation or advertiser in Times Square to make a big media splash. But thanks to the growth of social media, even a tiny startup like ENERGYbits® can now turn their passion for supporting their community into a big media success.
This Boston sports nutrition company wanted to honor athletes competing in the 2014 Winter Olympic Games. But like most startups short on cash, didn't have the bank account to fund an advertising campaign. So they used social media instead. The result is a month long social media campaign that kicks off January 6th. with the company's Twitter header being transformed into an electronic billboard, reminiscent of Times Square.  Each day throughout the month of January, the @ENERGYbits® Twitter header will feature an elite athlete training for the Winter Olympic Games, that will also be posted on ENERGYbits® Pinterest, Instagram and Facebook. Each of the featured athletes is a Brand Ambassador with ENERGYbits® so they not only use ENERGYbits® algae tabs for their own training and competitions, they endorse them, even for high stakes games like the Olympics.
Olympic athletes have relied on spirulina algae like ENERGYbits® for decades. While algae has been sold in the USA/Canada for fifty years, it remains virtually unknown here or worse, is considered pond scum. The reality couldn't be further from the truth. For decades, algae has been recognized as a nutritional powerhouse, prized by Olympic athletes like Lee Evans, a four-time USA track-and-field gold medalist, who back in 1968 was one of the first to attribute his success to algae "spirulina algae improved my training, gave me speed and improved my endurance all of which resulted in my faster times."
Evans is not alone in crediting algae for his success. For decades, elite groups like NASA, the United Nations and Carnegie Institute have endorsed algae as the most nutritionally dense food in the world. And no wonder. It boasts the highest concentration of nutrients and protein in the world (three times that of steak). The lack of awareness of algae's nutritional profile is what motivated ENERGYbits® to be the first company to build algae into a national brand so it could be easier to understand and easier to take. Olympic athletes looking to improve their performance were the first to embrace ENERGYbits® tabs but now that the word is out, endurance athletes, professional athletes, triathletes, fitness enthusiasts and consumers everywhere are taking ENERGYbits® to improve their health, stamina, focus and energy, all without caffeine, sugar, chemicals or gluten. Swallow a handful and you're good to go.
If you're going to the Olympics this year, be sure to pack ENERGYbits® to stay energized. If you need to purchase some, just visit www.energybits.com or look for the ENERGYbits® team at the Olympic Games! They will be there giving away samples, swag and banners that say "It's OK to Swallow". Their tiny "bits-of-food" are sure to make you feel so great, you even might want to leap over tall buildings in a single bound. But try to leave that to the guys in the blue tights and red capes, or at least the athletes in Sochi.
To view all the ENERGYbits® athletes please visit http://www.pinterest.com/energybits/meet-our-elite-athlete-partners. To purchase your ENERGYbits® please visit www.energybits.com
Athletes Being Featured on @ENERGYbits® 
| | | | | |
| --- | --- | --- | --- | --- |
| Name | Sport | Country | Twitter | Featured on Twitter |
| Chris Creveling | Short Track/Speedskating | USA | @tophcrev | January-14th |
| Travis Jayner | Short Track/Speedskating | USA | @travisjayner | January-15th |
| Alyson Dudek | Short Track/Speedskating | USA | @alydudek | January-13th |
| Nancy Swider-Peltz Jr. | Long Track/Speedskating | USA | @nswiderpeltzjr | January-12th |
| Anastasia Bucsis | Long Track/Speedskating | Canada | @anastasure | January 16th-17th |
| Atsuko Tanaka | Ski Jumping | Canada | @japanada01 | January 19th-25th |
| Alex Gough | Luge | Canada | @alexgoughluge | January 6th-8th |
| Arianne Jones | Luge | Canada | @jonesluge | January 9th-11th |
| Alexandrea Ianculescu | Long Track/Speedskating | Canada | @speed_skater | January 18th |
| David Morris | Freestyle Aerials | Australia | @aerialskier | January 26-February 1 |
About ENERGYbits®
ENERGYbits® is a sports nutrition company that sells algae tabs to the professional sports, fitness and consumer communities. ENERGYbits® is a wholly owned subsidiary of Bits of Health,  a five year old, nutraceuticals company based in Boston, MA, USA. For more information or to purchase yours visit www.energybits.com or www.bitsofhealth.com
For more information:
Catharine Arnston
Founder and CEO
Bits of Health™ l ENERGYbits®  Boston, MA, USA
617-886-5106
@energybits