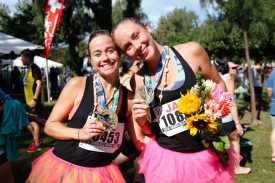 Following a successful 2016 campaign, BibRave will promote the 45th Honolulu Marathon
Portland, OR – BibRave, the new marketing solution for races and endurance brands, recently completed another successful promotion for the Honolulu Marathon and will help the race celebrate its 45th anniversary in 2017.
Since 2013, BibRave has used its growing audience, influence, and network of running bloggers, the BibRave Pros, to drive more awareness and registrations for the storied Hawaiian race – driving about 200 registrations in 2016. And as one of the largest marathons in the United States, and located in one of the most beautiful and exotic locations, the Honolulu Marathon has so many attractive qualities for the BibRave Pros to share with their blog readers and social followers.
"BibRave has been a strong and innovative partner over the years, and we're so excited to be working with them to celebrate our 45th Anniversary," said Fredrik Bjurenvall, Director of Digital Marketing for the Honolulu Marathon. "BibRave and the BibRave Pros do a great job of telling our unique story and showing what makes the Honolulu Marathon worth a spot on anyone's bucket list."
BibRave and the BibRave Pros (BRPs) will promote the 2017 Honolulu Marathon by sharing important updates about the race like price increases, discount codes, new medal/SWAG announcements, and the race's breathtaking scenery.
"Everyone has an idea of their "must-run" races, and The Honolulu Marathon is one that features on just about everyone's list," said Tim Murphy, Co-founder of BibRave. "BibRave has felt so privileged and excited to work with such an iconic destination race, and we couldn't be happier to have them as a partner again in 2017."
About the Honolulu Marathon
The Honolulu Marathon, which will be run for the 45th time on December 10, 2017, registers over 30,000 runners from all over the world. The race kicks off with a fireworks show at 5:00 a.m. and runs along the Honolulu waterfront, continuing through the downtown area, Waikiki, and East Honolulu to the Hawaii Kai turn-around and back to Kapiolani Park in Waikiki. 2017 will also feature a 10K option and one-mile race in Waikiki the day before the marathon.
About BibRave
BibRave works with races and brands to help them engage with runners and ultimately drive more sales and registrations. Through their large network of running bloggers (BibRave Pros), their popular Twitter event (#BibChat), and their new Podcast (The BibRave Podcast) BibRave helps endurance brands and races go beyond simple advertising and truly connect with more runners.
The company's consumer facing-product is a race review site where runners can learn about a race before signing up, and leave feedback after the event. The company launched in late 2013 in the Midwest and is now based in Portland, Oregon.