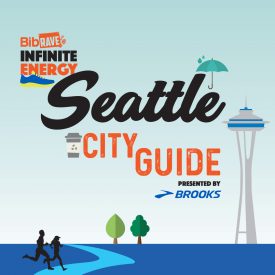 BibRave releases crowd-sourced runner recommendations in lead-up to Rock 'n' Roll Seattle race weekend
Portland, OR – BibRave, the new marketing solution for races and endurance brands, has partnered with Brooks Running to create a runner-sourced custom city guide to race weekend in Seattle. Using BibRave's expertise in the running community, and Brooks' knowledge of its hometown, the guide helps runners get the most out the upcoming Rock 'n' Roll Seattle race weekend – especially those visiting from out of town.
The Infinite Energy City Guide comes to life in a Pinterest Board, for travelers looking for inspiration, points of interest, and planning for race weekend, and an interactive Custom Google Map that runners can use to help navigate the city on race weekend. Key categories include recommendations for Attractions, Coffee Stops, Treats, Pre-Race Dinner, Post-Race Brunch, Post-Race Drinks, and Go-To Local Running Shops. All points include details and tips on the best times to visit, along with their locations in-relation to neighborhoods, hotels, and race events throughout the city.
"We were thrilled to work with Brooks Running on a custom program that merges two passion points for BibRave and our community – running and travel!" said Jessica Murphy, Co-Founder of BibRave. "Any runner visiting a new city for race weekend always has to balance preparing for the race with seeing (and eating) as much as possible. So the Infinite Energy City Guide, presented by Brooks Running, takes the stress and guesswork out of planning the weekend and let's the runner focus on the race and having fun!"
The program also includes signature BibRave marketing promotion and services. A blog post launched the campaign, #BibChat and BibRave Podcast sponsorship brought the guide to life via audio, and the BibRave Pro ambassadors shared their favorite features of the guide  throughout their blogs and social channels.
"We wanted to tap into BibRave's passionate community, and through this campaign we found the perfect way to leverage their influencers and promote one of our biggest platforms – the Rock 'n' Roll Race Series," said Stevie Jones, Event Marketing Manager at Brooks Running. "Their program management and execution has been incredibly turn-key which makes them a huge resource for our team."
You can follow the BibRave Instagram Story on Friday, June 8 through Sunday, June 10 to see Team BibRave take Seattle by storm, hitting up locations featured throughout the Infinite Energy City Guide and taking in all Seattle has to offer. 
About BibRave
BibRave works with races and brands to help them engage with runners and ultimately drive more sales and registrations. Through their large network of running bloggers (BibRave Pros), their popular Twitter event (#BibChat), and their new Podcast (The BibRave Podcast – for Apple or Android) BibRave helps endurance brands and races go beyond simple advertising and truly connect with more runners. 
The company's consumer-facing product is a race review site where runners can learn about a race before signing up, and leave feedback after the event. The company launched in late 2013 in the Midwest and is now based in Portland, Oregon.