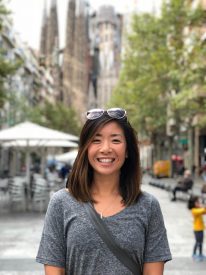 Former Runner's World Executive and Nike Brand Director becomes BibRave's 5th full-time employee
Portland, OR – BibRave, the new marketing solution for races and endurance brands, recently added its latest full-time staff member – running industry leader and company Co-Founder, Jessica Murphy.
Jessica brings a wealth of marketing, branding, and industry expertise to the company that has pioneered fully-managed influencer and blogger campaigns in the endurance space.
After moving from The Atlantic Magazine to become VP of Sales and Partnerships at Pulse, a news aggregation app, Jessica lead a global team specializing in content marketing at LinkedIn. She then became Digital Brand Director at Nike, and eventually made her way back into the publishing world by becoming the first female Managing Director at Runner's World. She is also a board member at Camber Outdoors, a national organization dedicated to achieving women's equality in the active-outdoor industries.
Jessica Co-Founded BibRave with her husband, Tim, in 2013 and has maintained an active, part-time role ever since. Her move to a full-time staff member will allow her to focus on larger business goals and opportunities for BibRave.
"When Tim and I started BibRave, the goal was always to create a business that would allow us both to contribute to the running world in a meaningful way," said Jessica. "I'm so grateful for all the opportunities I've had along the way, and I can't wait to bring those experiences to work for BibRave and our clients."
Jessica joins four other members on BibRave's staff: Co-Founder, Tim Murphy; Director of Accounts, Andy Wallace; Account Manager, Julia Montag; and Community Manager, Erin Tierney. Jessica will help support existing clients and lines of business while working with other members of the team and community to develop additional offerings for the running industry.
"I couldn't be happier about Jessica joining Team BibRave on a full-time basis," said Tim Murphy, Co-Founder of BibRave. "Very few people possess her combination of intelligence, high-level marketing and branding experience, and thought leadership in the running industry. Those make her incredibly valuable, and we feel lucky that BibRave could nab her full time. I swear she didn't make me write that quote, by the way."
About BibRave
BibRave works with races and brands to help them engage with runners and ultimately drive more sales and registrations. Through their large network of running bloggers (BibRave Pros), their popular Twitter event (#BibChat), and their new Podcast (The BibRave Podcast – for Apple or Android) BibRave helps endurance brands and races go beyond simple advertising and truly connect with more runners.
The company's consumer-facing product is a race review site where runners can learn about a race before signing up, and leave feedback after the event. The company launched in late 2013 in the Midwest and is now based in Portland, Oregon.