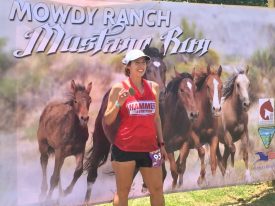 Meet Carol Tatom
The ninth American Trail Running Association (ATRA) Trail Ambassador presented by CamelBak is Carol Tatom, a trail runner who builds community by sharing her passion for the sport with others. This busy 40-year-old mom of four from Plano, Texas, is also the co-founder of Endurance Beast, a company whose line of products is specifically geared to the trail and ultra trail runner.
Tatom ran her first 100-mile race at Rocky Raccoon in 2015. She considers that effort as a life-changing event. "It was a celebration of six months' worth of training. Those last few miles, I was crying happy tears. I had wondered if I could do it and I was able to overcome every obstacle in my way. When I crossed that finish line, I was euphoric. I couldn't wait to do it again."
And so she did. Later that same year, she completed the Pumpkin Holler 100 miler. "I'm so hooked," said Tatom. "I just love ultra running, it's a beast in itself, plus, I'm stubborn and too dumb to know when to stop, so I just keep going."
With four children ages seven to 16, the youngest with special needs, her time running hundred milers is a welcome break. "It's a 30-hour vacation for me," said Tatom, a stay-at-home Mom, who volunteers at her children's school, and works in the business she co-founded with her husband David in 2015.
Endurance Beast went public in 2016. The company has created a line of natural products for runners including Chafing Shield, Stink Beater, and Laundry Wash. "I try to sponsor as many events as I can and will often box up samples for runners in races all over the United States hoping to spread my love of trail running to as many people as I can," says Tatom.
Sharing the joy of trail running with others is paramount to Tatom. "A lot of people say that running is lonely. I feel that it is a team sport – not in terms of passing a baton, but we're all a team working together to get to the finish line."
Tatom, who trains about 50 miles a week – and between 55-60 miles a week before her big races, shares her experiences with other moms about juggling training as well as family life. "I can only get up so early and I can only stay up so late," says Tatom, who encourages people to create a positive balance in their home life as well.
Writes Liz Baker, who has been running with Tatom for over a year, "Carol has been helping me prepare for my first 100 miler. She has been running with me as early as 4 a.m., and also has taken the time to run a few all-nighters with me. With four children, Carol has still found the time to work with me on my running and preparing me mentally for what I will go through in my 100 miler."
You can meet Tatom and also learn more about Endurance Beast at the US Trail Running Conference next month. Read more of Tatom's story HERE.
The ATRA Trail Ambassador program is presented by CamelBak with support from partners adidas TERREX, and OrthoLite.