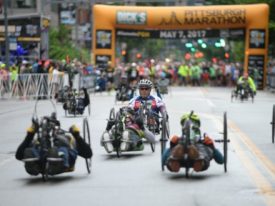 PNC returns as presenting partner of the Handcycle Division, will also sponsor the Military Mile
PITTSBURGH– Pittsburgh Three Rivers Marathon announced that PNC Bank will once again serve as presenting partner of the Handcycle division of the DICK'S Sporting Goods Pittsburgh Marathon. A total of 24 athletes – 20 men and four women – will compete in this year's Handcycle Division.
Participating in the Handcycle Division for the first time this year is former professional road racing cyclist Danny Chew. He was a 2014 inductee into the UltraCycling Hall of Fame and is also known as the co-founder of the annual Dirty Dozen road bicycle race in Pittsburgh. Though a biking accident left him permanently paralyzed from the chest down in 2016, Chew is still determined to reach his goal of riding one million miles during his lifetime – and will resume that goal aboard a handcycle. 
Other athletes competing in this year's Handcycle division include a 60-year-old male utilizing a push rim racing wheelchair, a 31-year-old woman living with multiple sclerosis who will use a recumbent tricycle and four members from the Paralyzed Veterans' Racing Team.
"Each year, we are humbled by the strength and determination of the veterans and competing athletes in the handcycling event," said Louis R. Cestello, head of regional markets and Pittsburgh regional president for PNC Bank. "They exemplify the spirit of sport and the best in all of us. We wish them well as they negotiate a challenging course and display the physical and mental intensity that distinguishes them among athletes."
The DICK'S Sporting Goods Pittsburgh Marathon Handcycle Division presented by PNC Bank utilizes the same 26.2-mile course that the marathoners run. It offers a scenic tour of Pittsburgh, crossing all three of Pittsburgh's rivers, traveling through 14 neighborhoods and passing by several Pittsburgh landmarks – including PNC Park, Heinz Field and PPG Paints Arena – before finishing downtown.
In addition to the Handcycle Division, PNC will once again sponsor the Military Mile located between miles nine and 10 on the DICK'S Sporting Goods Pittsburgh Marathon course. This mile of the race route is dedicated to celebrating and recognizing all branches of military service.
In 2017, Attila Domos, 48, of Pittsburgh won the men's Handcycle Division in 1:28:28. Three-time women's Handcycle Division winner Ashli Molinero, 45, of Bethel Park, Pennsylvania, defended her title once again last year, capturing the crown in 2:44:12.
The Handcycle Division will start at 6:50 a.m. on Sunday, May 6. For more information about the Pittsburgh Marathon Handcycle Division, visit: thepittsburghmarathon.com/handcycledivision. 
About PNC Bank
PNC Bank, National Association, is a member of The PNC Financial Services Group, Inc. (NYSE: PNC). The PNC Financial Services Group, Inc. (NYSE: PNC) is one of the largest diversified financial services institutions in the United States. With a retail branch network that stretches across 19 states and the District of Columbia; and strategic international offices in Canada, China, Germany and the U.K., PNC is organized around its customers and communities for strong relationships and local delivery of retail and business banking, including a full range of lending products; specialized services for corporations and government entities, including corporate banking, real estate finance and asset-based lending; wealth management and asset management. For information about PNC, visit www.pnc.com.
About the Pittsburgh Three Rivers Marathon, Inc. (P3R)
P3R is a nonprofit organization that is passionate about promoting a love of running and enhancing community access to health & fitness education and activities. Best known for organizing the acclaimed annual DICK'S Sporting Goods Pittsburgh Marathon, we also run a variety of other high-quality races, events, and health and fitness programs throughout the Pittsburgh region. While many of our races attract some of the nation's highest-profile professional athletes, we offer activities for all ages and ability levels. The only criterion for participation is a desire to be happy, healthy and active! Read more at: P3R.org
FACEBOOK: P3Revents   
TWITTER: @P3REvents     
INSTAGRAM: P3REvents