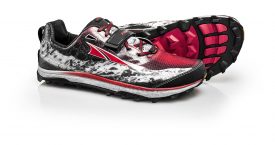 (Logan, UT — February 1, 2017) — Altra Footwear is adding an aggressive new shoe to its popular trail line called the Altra King MT, named after Utah's highest mountain, Kings Peak.  With 6.0 mm lugs, this shoe is made for runners whose idea of fun involves mud, wet grass and burly mountain climbs. With Vibram® MegaGrip™ outsole and a 19 mm stack height, this shoe is perfect for Spartan and obstacle course racers as well as the popular European sport, Fell running. The Altra King MT recently won the Men's Health magazine "2017 Editor's Choice" award at the Outdoor Retailer Winter Market.
The Altra King MT features an all-new Altra Ego™ midsole. This proprietary compound provides a bouncier cushioning with more energy return, despite being softer and thinner. This new type of cushion allows a higher responsiveness at a lower weight and has high long-term durability to maintain these properties throughout the life of the shoe.
Underneath that midsole are significant 6.0 mm outsole lugs—the deepest on any Altra shoe—designed for lateral breaking, medial gripping and maximum traction in wet and slippery conditions. The King MT has the most supportive upper of any Altra shoe with TPU overlays and a new feature called FootLock™, a midfoot strap to lock your foot in place on steep descents. A flexible StoneGuard™ rock plate also adds extra underfoot protection from rocks and trail debris.
The King MT features Altra's lowest stack height at 19 mm and weighs only 8.5 ounces for the men's sample and 7 ounces for the women's. This shoe also comes with Altra-specific trail features such as TrailClaw™ metatarsal lugs and a GaiterTrap™ on the heel and a metal loop at the toe for easy pairing with Altra trail gaiters. Color options are black/red, blue, and gray shadow for men, and gray/magenta, black/teal and black for women.
The King MT also includes Altra's signature FootShape™ toe box and Zero Drop™ platform for a more natural, comfortable fit. The King MT, along with every Altra women's shoe, is Fit4Her™, which means the women's model is produced with softer cushioning on a female-specific last to account for the unique anatomical differences between men's and women's feet.
Hardrock 100 winner, Jason Schlarb, plans to wear the King MT at his upcoming Coastal Challenge race in Costa Rica. Altra's OCR team of Andrea Duke, Corinna Coffin as well as Amanda Basham will also wear the King MT as they compete in events across North America.
The Altra King MT is available for $140 on www.AltraRunning.com and at your local specialty running store.
About Altra:
While working at a running store, Altra founders Golden Harper and Brian Beckstead saw the pain caused by traditional running shoes. Their passion to create a shoe that made running enjoyable inspired Altra's FootShapeTM toe box and Zero DropTM  platform. Within only five years, Altra grew from one to 21 shoe styles, winning multiple Editor's Choice awards and distribution in over 50 countries.
Join the conversation @AltraRunning and #ZeroLimits on Twitter, Instagram and Facebook.
PR Contact: Colleen Logan, VP Marketing, clogan@iconfitness.com
Photo Caption:
Altra Footwear announces the release of its super aggressive trail shoe, the King MT, made for mud, wet grass, burly mountain climbs, and Spartan and obstacle course racers.