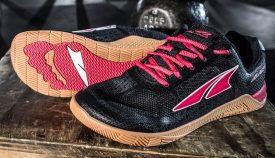 (Logan, UT — August 10, 2017)  Since the beginning, Altra's natural FootShape™ toe box and Zero Drop™ shoes have been a hit for CrossFit and strength training. Now Altra makes it official with its first ever cross-trainer shoe, the HIIT XT, perfect for high intensity interval training, hence the name.
The HIIT XT is Altra's first purpose-built multi-sport shoe, has already won major awards and is a significant value at $99.  Altra recently launched this video to showcase the versatility of newest shoe.
The wrap-around, non-slip, non-marking sticky rubber outsole performs the perfect balancing act: grippy and stable with excellent proprioception for strength training, supportive and cushioned for jumping and running, and comfortable for long sweaty workouts.
The key to the HIIT XT's versatility is a thick, optional insole.  Removing the insole drops the overall stack height to 17mm and reveals the PowerSole™.  Without the insole, the foot is on a firmer platform and closer to the ground – ideal for squats and heavy lifting.  Altra's FootShape™ toe box allows the toes to spread and splay naturally inside the shoe, for natural balance and stability. The lining of the shoe is finished nicely so the shoes can bee worn barefoot, as some lifters prefer.
The upper's durable, breathable mesh keeps the foot supported and comfortable from the gym, to the court, to the road. The herringbone rubber outsole makes it great for lateral movement in aerobic classes, lifting, HIIT exercises, and court sports like tennis and basketball. A high sidewall wrap on the medial side is designed for rope climbing.
Altra founder Golden Harper tested the HIIT XT prototypes during 9 months of obstacle course training for his competitive Spartan races, and regularly playing tennis.
"From the court to the gym to the coffee shop and beyond, this is the shoe all of us at Altra wanted for the 'everything else' we like to do that's not running," Harper said.
Nearly half (49%) of runners "regularly" strength train to complement their running routines, according to data in the 2017 Running USA's National Runner Survey. Altra Elite athletes Angela Shartel and Jeff Browning incorporate strength training to their weekly regime and have the guns to show for it.  Shartel uses a mix of kettlebells and weight lifting to keep a balanced body. She says CrossFit gives her a strong foundation to keep her power levels high through training runs and 100-mile races. Browning, 46, placed 4th overall at the 2017 Western States 100-mile Endurance Run and shattered the world record in 2016 for "The Double"—the combined times of Western States and Hardrock 100, two 100-mile races less than 4 weeks apart.  He says strength training is key to his running power.
"I require functional strength training for the runners I coach, especially for athletes over age 35," Browning said. "We lose one pound of muscle every year past 35, so having a strength routine is important as a runner. Personally, I do two strength routines per week. As runners we only use one plane of motion and limited range of motion in our primary movements.  Therefore,  it's important to train for strength through a full range, as well as three planes, of motion."
Altra's HIIT XT is available now for $99 on www.AltraFootwear.com or at your local specialty running retailer.  Color options for men are black/white, gray/yellow and gray/red. Color options for women are black/purple, gray/yellow and black/red.
About Altra
While working at a running store, Altra Founder Golden Harper was frustrated that modern running shoe technology caused poor running form and had not decreased running injuries. His passion to create a shoe that followed the science produced Altra's FootShapeTM toe box and Zero DropTM  platform. Since its founding in 2011, Harper and co-founder Brian Beckstead have grown Altra from one to 25 shoe styles, winning multiple Editor's Choice awards and distribution in more than 60 countries. Join the conversation @AltraRunning and #ZeroLimits on Twitter, Instagram and Facebook.
Media Contact: Colleen Logan, VP Marketing, clogan@iconfitness.com