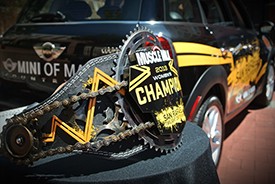 Marquee Athletes Prepare as 15th Racing of "Cycling's Biggest Night" Comes to NorCal This Saturday
The barricades are in queue, the DJ's playlist is crafted and the beer is on ice. The preparation for this year's San Rafael Twilight Criterium is complete, and all that remains for Project Sport's "rock show on wheels" is to put tire to pavement this Saturday, July 27.
View Preview Video: http://www.youtube.com/watch?v=AeOboY7xhnI
The theme of this year's event is "More." More volume, more competition, more fans, more festival, more sizzle. This year Project Sport has seen a 40% increase in sponsorship over the underwriting provided annually by San Rafael's Montecito Shopping Center, including major funding by Sungevity solar energy. This is allowing the organizers to add several creative layers to its already popular race.
Racers this year will be led out by the SRT-wrapped MINI of Marin pacecar, while again competing for the glamorous and coveted, heavyweight-boxing-inspired Muscle Milk Belt of Royalty. Another fan-centered addition is the Deschutes Brewery Beer Garden, stationed directly at the start/finish line and featuring the aptly-named Twilight Summer Ale and Chainbreaker White IPA. The party will be fed with custom-built burgers by The Counter.
But as always, the main draw of the SRT is the talent. Both 2012 champions return to defend their titles. Men's champ Eric Riggs, riding for Team Mike's Bikes, has logged 6 wins and 10 podiums since his SRT win last year, and is coming off a dominating performance at the Mt. Hood Classic last month. Women's champ Alison Tetrick has taken 31 podiums with a remarkable 17 wins since her last appearance in San Rafael.
"Every race I've done this year has been in preparation for the San Rafael Twilight Criterium," Tetrick said in a recent press event held in downtown San Rafael last week.
Joining Tetrick in the women's field is her Exergy TWENTY16 teammate Kimberley Wells, the Australian Criterium Champion who just won the Boise Twilight Criterium. Starla Teddergreen, representing Vanderkitten Racing, is another past Project Sport champion aiming to repeat her 2011 Sacramento Gran Prix victory here.
In the men's finale, Logan Loader returns to San Rafael now as a national champion, winning the USA Cycling Amateur Nationals time trial in Madison earlier this month. The U23 phenom Justin Williams returns, another former Project Sport champ in Sacramento who won that event without his team in a now-legendary solo performance. Of course the SRT field is never complete without its mainstay, multi-time national champ, three-time SRT runner-up and 2011 SGP champ, Rahsaan Bahati.
Now in its 15th year, the SRT has grown a somewhat notorious reputation for generating a nightclub atmosphere both on and off the track, and it doesn't seem to be shying away from that debauchery this year. "Between the race and the after party, it's a 36 hour straight affair," said Brad Sohner, who with Dave Towle forms the race announcing team of both the SRT and the Amgen Tour of California. Tetrick added that it's "the only race whose after-party is more tiring than the race."