XTERRA World Cup Rolls Into the Rockies
August 24, 2023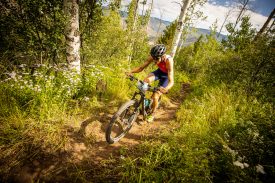 As the last full-distance race on the World Cup schedule prior to the XTERRA World Championship in Italy on September 23, the USA Championship is a critical points scoring opportunity for elites competing in off-road triathlon's premier racing circuit.
/ENDURANCE SPORTSWIRE/ – The sixth of seven stops on the inaugural XTERRA World Cup takes place this Saturday, August 26, high up in the Rockies at Beaver Creek Resort in Avon, Colorado.
As the last full-distance race on the World Cup schedule prior to the XTERRA World Championship in Italy on September 23, the USA Championship is a critical points scoring opportunity for elites competing in off-road triathlon's premier racing circuit.
To determine XTERRA World Cup Champions, elites count their best four scores from the first six full-distance races with their best three Short Track scores and whatever they get (or don't get) at the XTERRA World Championship.
Last Saturday at XTERRA Germany, seven-time World Champion Ruben Ruzafa from Spain broke his wheel while battling for the lead on the mountain bike and ended up as a DNF (Did Not Finish) with zero points, thus leaving him without a fourth full-distance score.
Ruzafa previously finished second at the XTERRA Asia-Pacific Championship in Taiwan (99 points), third at the European Championship in Belgium (90 points), and 7th at XTERRA Czech (58 points). Those scores, along with 38 points from his Short Track races, have him ranked sixth in the series with 285 points.
With a win, he would add 110 points to his total and move into third place in the standings, seven points behind Felix Forissier (FRA), and 19 points behind the leader, Arthur Serrières (FRA). And, if Ruzafa can post anything better than 10th place in the XTERRA Trentino Short Track race on Thursday, September 21, he would improve his score even further.
All that matters because the World Championship, which is a must-count race, awards 120 points for the winner, 108 points for second, and 98 for third. So there is a chance, albeit hypothetical, with a couple good races that Ruzafa could enter the grand finale tied with Forissier at 402 points (or better), which would be just 12 points behind Serrières who sets the standard at 414 points, setting up a situation where all three athletes would win the World Cup if they won the World Championship.
But first things first. Saturday's men's elite race will be hotly contested. The reigning USA Champion, Sullivan Middaugh, has home course experience and beat the best in the world at this race (his Dad, Josiah) last year.
Sam Osborne won the year before, in 2021, and has been riding around with a lot of confidence.
"I think I'm as ready as I'll ever be," said Osborne. "It's a really unique suffering in Beaver Creek, hard to explain to people just how much you suffer there in the altitude. People need to come & experience it for themselves."
Sébastien Carabin from Belgium, like Ruzafa, is coming to experience it for himself and has a lot to gain in the points standing with a good score. So too does Kieran McPherson from New Zealand. Add in wildcard Timothy O'Donnell, and Saturday's race really is up for grabs.
"Ruben will be one fired up man after his mechanical last weekend and must think he's got some great form to be committing to the trip at the last minute to rescue some points," said Osborne. "Carabin has been super consistent this year and is known to have a motor on his bike so I'd expect him to be putting lots of hurt on up the mountain. And let's not go past the last minute sneak in of T.O. (O'Donnell), who needs no introduction to the tri world. It's going to be awesome to have him on the line."
It's always fun when the big names from the road triathlon scene cross over to XTERRA. Some are great, some are not, and the jury is still out on O'Donnell but the vibe says he'll be bringing his A-game to Avon.
"I'll try to work my strengths as best as I can: swim fast, ride hard uphill and then mitigate the damages from the descents when I hit the run course," said O'Donnell. "I have no clue where I'll end up in the field, but I will try to hold off as many guys as I can!"
ELITE MEN
XTERRA World Cup Position (After 9) – World Rank – Name, NAT
6 – 4 – Ruben Ruzafa, ESP
8 – 5 – Sébastien Carabin, BEL
9 – 13 – Kieran McPherson, NZL
14 – 17 – Sullivan Middaugh, USA
16 – 18 – Sebastien Neef, GER
19 – 10 – Sam Osborne, NZL
21 – 32 – Tom Fisher, AUS
27 – 19 – Francisco Serrano, MEX
29 – 27 – Edmond Roy, CAN
31 – 50 – Keller Norland, USA
37 – 86 – Sam Teller, USA
38 – 81 – Branden Rakita, USA
44 – 284 – Brian Summers, USA
45 – 204 – John Wiygul, USA
NR – 28 – Brian Smith, USA
NR – 138 – James Kirschner, USA
NR – NR – Valentino Agnelli, ARG
NR – NR – Timothy O'Donnell, USA
In the women's elite race, Suzie Snyder is the athlete with the most to gain. A win would put her securely in fifth place in the standings with a chance to score even more points in Italy's Short Track race before the finale.
"There's no room for error, but I'm trying not to think like that and put a whole lot of pressure on myself," said Snyder, who finished second behind Lesley Paterson at this race last year.
Since then, Snyder moved to Avon and has had the benefit of training and acclimating to the altitude year-round.
Paterson, on the other hand, hasn't swum a bit in the last six months. But the legendary movie screenwriter and five-time World Champ still rides and runs as a source of inspiration and creative energy, so will be a force to be reckoned with regardless how far back out of the swim she is.
"Have come up here to be inspired while writing on a new script (can't disclose it yet!!) but something happens to me when I ride and run on these trails – it's joyous in the deepest part of my soul," said Paterson. "I've gone from recreational training to all of a sudden getting the bit between my teeth and that warrior spirit – plus I just miss my XTERRA peeps – so I decided to go for it."
Samantha Kingsford, the 2021 XTERRA Beaver Creek Champion, is based now in Boulder and comes in strong and ready.
"I still have nightmares after my very first experience of racing there in 2019 where the altitude definitely got the better of me, but somehow I managed to beat it in 2021 so that's what I'm hoping to do again this year," said Kingsford. "It will be nice to have a race after a block of training to see where I'm at ahead of the XTERRA World Championship in Italy."
Other contenders include the Canadians – Carolyne Guay and Katie Button, the Germans – Maria Doring and Lorena Erl, and the Americans Rea Kolbl and Amanda Presgraves, who finished third here last year.
ELITE WOMEN
XTERRA World Cup Position (After 9) – World Rank – Name, NAT
6 – 17 – Suzie Snyder, USA
16 – 6 – Samantha Kingsford, NZL
17 – 33 – Carolyne Guay, CAN
18 – 41 – Maria Doring, GER
19 – 31 – Lorena Erl, GER
25 – 32 – Katie Button, CAN
29 – 60 – Katja Krenn, AUT
31 – NR – Aneta Grabmüllerr AUT
35 – 77 – Irena Ossola, USA
40 – 69 – Rea Kolbl, USA
NR – 9 – Lesley Paterson, GBR
NR – 55 – Amanda Presgraves, USA
NR – NR – Brittany Schroeder, USA
The main event starts at 9am MST / 11am EST.
Follow live updates on Instagram at instagram/xterraplanet.
Live results at https://my.raceresult.com/249514
Full coverage of the XTERRA World Cup at: https://www.xterraplanet.com/world-cup
About XTERRA
X marks the unknown. TERRA is earth. United, we are XTERRA – a brand born to discover unknown territory. Since our inception in 1996, XTERRA has been inspiring off-road adventure by connecting people with nature through events with a fun, family vibe. We offer 13 off-road race options, from triathlon-to-trail running, for participants of all ages and skill levels in 47 countries worldwide. We have a global perspective, we aspire to protect where we play, and live the XTERRA lifestyle everyday, everywhere we roam. Join us off-road at xterraplanet.com.