XTERRA Launches New Long Distance Race Format
March 31, 2022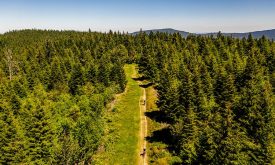 Distances will vary slightly between locations; however, each event will include around 2km of open water swimming, 60-70km off-road riding, and 20-22km of trail running.
March 31, 2022 /ENDURANCE SPORTSWIRE/ – XTERRA is set to introduce a brand-new event format – XTERRA Long Distance – with the first of four races kicking off at the ski resort of Super-Besse in the Massif Central region of France this July.
An exciting addition to the European schedule, the Long Distance events will combine in equal parts endurance, adventure, and stunning locations, with World Championship slots up for grabs.
Designed to mix pleasure and performance, the new format stays true to the core of XTERRA by combining open water swims with off-road riding and running, but these events also deliver a true endurance test for athletes as they cover a much longer course. The most notable difference between a traditional XTERRA event and Long Distance, is having the focus centered on the journey rather than the result, allowing athletes to truly appreciate the natural beauty of the course.
Locations for XTERRA Long Distance events have been carefully selected to give athletes an utterly unique adventure through spectacular scenery, offering an entirely new way for outdoor enthusiasts to experience bucket-list travel destinations.
Distances will vary slightly between locations; however, each event will include around 2km of open water swimming, 60-70km off-road riding, and 20-22km of trail running.
"The XTERRA Long Distance events are much more than just a race," explained Nico Lebrun, XTERRA Europe Technical Director. "The challenge of completing the distance combined with a relaxed and welcoming atmosphere will make these events a fantastic experience. If you love nature, enjoy triathlons, or are looking for a longer distance event away from traffic, this is for you!"
Another notable difference from other XTERRA race formats is the addition of bike options. Unique to the XTERRA Long Distance format, gravel and cyclocross bikes will be allowed alongside mountain bikes, giving competitors more choice when it comes to conquering the terrain of each location.
The first four events scheduled in Europe for 2022 will also offer slots into the 2022 XTERRA World Championship in Trentino, Italy.
XTERRA Super Besse, France
A 1900m swim in Lake Des Hermines located at the foot of the Sancy Mountain range is followed by a tough and sometimes technical 70km bike loop around the big volcanic lakes that populate this region. With 1800m of elevation you can expect some tired legs before the final 20km trail run that reaches the very top of the resort at 1676m!
Location: Super Besse, France
Date: July 30-31
Details and Registration: Click here
XTERRA Ardennes Trophy
After swimming for 2000m, athletes will navigate through the heart of the Ardennes and the Hautes Fadnes Plateau. The bike course is typical for the region, with lots of short punchy climbs adding up to 1400m of elevation feature across the 60km loop. A one-lap run course is 100% off-road and takes in spectacular views across the Gileppe Lake and its impressive dam.
Location: Jalhay, Belgium
Date: August 13
Details and Registration: Click here
XTERRA Sumava
The most beginner-friendly event in the long-distance calendar, athletes will swim two laps of 1000m in Lipno Lake before taking on a point-to-point 60km cycle. The bike course is straightforward so can be ridden on either a mountain bike or gravel bike. The 21km run is also a point-to-point adventure through the Sumava mountain range and along the Vltava riverbank to finish at Lipno Lake.
Location: Lipno nad Vltavou, Czech Republic
Date: September 3
Details and Registration: Click here
XTERRA Sardegna
Starting on the sandy beach of Cala Sinzias, a 2000m swim in the crystal clear waters of the Tyrrhenian Sea proceeds a tough 58km ride through the Castiadas state forest. With 1300m of climbing on a mixture of terrain, the mountain bikes may well prevail ahead of an 18km sandy trail run along the coast before finishing in the Cala Sinzias Amphitheater.
Location: Castiadas, Sardinia, Italy
Date: October 15-16
Details and Registration: Click here
What to Know About the New XTERRA Long Distance Format
Finishing Time:
Each event will offer different challenges depending on the surface and elevation gain so cut off times will differ, but athletes should expect to take significantly longer than a regular XTERRA event. This new format is just as much about immersing oneself in the adventure and exploring nature as it is about testing one's limits.
Technicality:
These races are designed to test endurance more than technical skills, but there will still be some challenging sections. It's encouraged that all athletes first consider the individual course details to find a race that is best suited to their skillset.
Bike Choice:
The only restriction for bike choice is that e-bikes will not be allowed. Those new to XTERRA are encouraged to use a mountain bike, while experienced off-road cyclists may use a gravel or cyclocross bike. Course information will be provided to help contestants choose the best bike for each particular trail.
World Championship Slots:
The XTERRA Long Distance races are Silver-status events and therefore slots will be available for the 2022 XTERRA World Championship in Trentino, Italy.
For athletes new to XTERRA, or those looking to improve their off-road performance, expert advice on how to prepare for the Long Distance races can be found from any of the XTERRA Certified Coaches via the Find a Coach page.
About XTERRA
XTERRA is a global lifestyle brand that champions the outdoor endurance enthusiast in their pursuit of relentless adventure. With over 25 years of rich, off-road history,  XTERRA has cultivated a passionate community of like-minded individuals who strive to be the best version of themselves in all aspects of life.  XTERRA offers partners a globally diverse community of loyal consumers who connect through sharing experiences; victories, struggles, personal stories, adventures and much more.