Wolff E-Bikes Now at 130 Dealers in NA; New US Sales Team Adds Momentum
June 1, 2023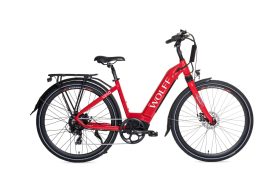 Fast-growing Canadian e-bike brand taps industry vets to bolster US presence; Versatile Vela model helping power the success
Quebec, Canada (June 1, 2023)/ENDURANCE SPORTSWIRE/ – One of North America's fastest-growing e-bike brands, Canada's Wolff E-Bikes, recently added their 130th retailer, with 80 of those in the US. But they're not stopping there; they also aim to bolster that growth even further with a new US sales team composed of long-time industry veterans, and by focusing on do-it-all bikes like their step-thru Vela model.
Heading up the new U.S. sales organization are Mike Russell, US National Sales Manager, and Wayne Mansfield, Business Development Director, with a combined 70 years in the cycling industry. The new dedicated sales management team provides inside support and independent representation in 23 US states across the country, including major markets like New York, Colorado, California, Ohio, Florida, etc.
While Wolff's core strategy will remain intact — offering dealers and consumers high quality e-bikes, featuring the best components on the market, at an affordable price point — the two new hires will use their decades of experience to build upon and augment that strategy.
"What a great gig," says Russell. "Wolff offers truly great products, and the team are amazing people who are fully dedicated to the IBD and brick & mortar bicycle retailer."
Mansfield adds, "Wolff has had a lot of success already, and their bikes are perfect for a huge range of riders, which makes our jobs much easier. Nonetheless, we strongly believe there's still a lot of room out there to grow the brand and its retailer and consumer bases."
Wolff is equally inspired by the new sales team. "While we're thrilled with what we've been able to accomplish across North America, we're confident this new sales organization will push us to the next level," says Allan Kruger, Founder. "Mike and Wayne are proven veterans who bring a wealth of knowledge, experience and renown in the industry. Combined with our outstanding line of high-value products, like the hugely popular Vela, we're confident we'll increase that number of retailers substantially and quickly."
One of the models driving Wolff's growth is the Vela, a strong example of Wolff's commitment to producing high-value, highly versatile, easy-to-use bikes, rather than flashy niche products that serve a limited clientele. The step-thru Vela is a fully capable, classically styled, urban bike, featuring a renowned Bafang motor, powered by long-life, name-brand batteries for up to 56 miles of assisted range. Standard features also include front and rear full-coverage fenders, front suspension, rear rack, front and rear lights, and much more.
For SALES inquiries, please contact: Mike Russell, mike@wolffebikes.com or Wayne Mansfield, wmansfield33@gmail.com
For MEDIA inquiries, please contact: Scott Boulbol, scott@simbolpr.com or Nic Sims, nic@simbolpr.com
For all OTHER inquiries, please contact: Nadia Sofia Segato: nadia@wolffebikes.com
About Wolff E-Bikes: E-Bikes are our passion! Wolff E-Bikes are high-quality electric bikes at an affordable price point. We carefully select each bike component and use renowned brand names to maintain Wolff E-Bikes' performance, comfort and durability. At Wolff, we believe in a future of clean, zero-emission transportation and leisure activities. Discover our 25 models and RIDE WITH US TO ZERO EMISSIONS®