Wexer partners with HUSK to deliver wellness content to over 10M+ users
May 16, 2023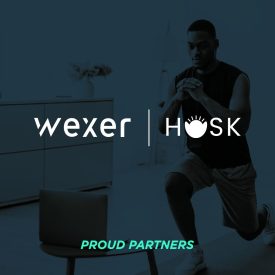 With an eligible audience of 10M+ this partnership accelerates their shared goal to bring health to more communities.
TUESDAY 16TH MAY, LONDON, UK /ENDURANCE SPORTSWIRE/ – Digital content provider Wexer announces partnership with digital health and insurance provider HUSK.
The deal will enable HUSK to utilise the Wexer content API to take the content library and host it onto their own digital platforms. HUSK has a range of existing services across various mental and physical health services. Wexer will support and enhance their on-demand video content.
Wexer Head of APAC, Sam Aldred who brokered the partnership "Wexer are really excited about this partnership" says Aldred "we have huge areas in common with a shared understanding around the importance of digital tools to scale and deliver benefits to users but more importantly a shared vision to empower healthier living."
HUSK Erin Markowski, Chief Operating Officer continues, "we are excited about our partnership with Wexer to expand our digital fitness and wellbeing offerings to our customer base."
The impact of this partnership highlights the growing importance of access to digital on demand services. Aldred concludes, "fitness doesn't end with a visit to the gym, and our goal is to support our partners to drive benefits to individuals holistically."
About HUSK
We partner with organizations to make health easier by designing sustainable wellness programs that connect people to their benefits. When you have a supportive framework for wellness surrounding your everyday life, you can grow into the best version of yourself. Our verticals include nutrition, mental health, rewards, movement, and a wellness marketplace.
About Wexer
As a digital fitness market leader, our mission at Wexer is to make world-class exercise accessible to more people by harnessing the power of technology, while simultaneously ensuring traditional facilities remain at the very heart of the fitness experience. Our technology creates a bridge between the digital and physical worlds, enhancing in-club products and experiences; broadening the audience for clubs' expertise, talent and programming via new 'always-on' channels; and enabling every user touchpoint to be shaped by data and personalised insight.
Media Contact
+44 (0) 7921 317410