Wattbike to Launch Podcast: 'Push Your Peak' Presented by Louise Minchin
February 21, 2022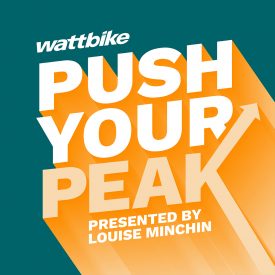 /ENDURANCE SPORTSWIRE/ – Push Your Peak is a podcast series for athletes who don't know their limits. In this new series, journalist and athlete Louise Minchin sits down with superhumans who have done extraordinary things to learn what it takes to push beyond mental and physical boundaries and to give listeners inspiration and confidence to do the same. A keen triathlete and cyclist, Louise recently took on the Rat Race Transandean trial event – a 1200km bike ride across Argentina – and also enjoys long training rides on her Wattbike from the comfort of her home. Louise is best known for having presented the UK's most-watched breakfast programme, BBC Breakfast, for 20 years and recently appeared on ITV's I'm a Celebrity Get Me Out of Here.
Listeners can like and subscribe to listen to a new episode of Push Your Peak every Wednesday, kicking off on Wednesday 23rd February. The first episode to be released will feature ultra-endurance adventurer Mark Beaumont, who holds the world record for cycling around the world in under 80 days (18,000 miles).
The podcast will be available to stream via the Wattbike website, as well as through Spotify and Apple.
Push Your Peak showcases Wattbike's little black book of elite sports athletes and teams, spanning rugby, cycling, surfing and more. But in every superhuman story lies some incredible motivation and advice for all athletes to take away – including those at home, no matter what stage of their fitness and performance journey they're at.
Amy Johns, Marketing Director at Wattbike, said, "We're delighted to be launching our first podcast series, sharing inspirational, never-heard-before stories of superhuman feats. We hope that this podcast will help inspire real athletes – from superstars to beginners – no matter how big or small their goals may be."
Louise Minchin, Push your Peak presenter, said, "I'm thrilled to be given this opportunity to be in conversation with some of the greatest athletes in the world and explore how far their bodies can go when they really put their minds to it. The stories they tell are incredible and a real inspiration to everyday athletes like me who want to push themselves. I'm delighted to be a part of something that gives people the confidence and motivation to test their limits and push their peak, because what our bodies can achieve is truly extraordinary."
———————————————————-ENDS————————————————————-
ABOUT WATTBIKE
Wattbike is the original, indoor smart bike innovator, offering the most sophisticated yet accessible cycle training tools used by champions, athletes and fitness enthusiasts worldwide.
Wattbike's mission is to help improve the fitness and performance of every athlete in the world – and anyone who can ride a Wattbike is an athlete. That's why Wattbike is chosen by both the world's top sporting teams such as the All Blacks, as well as thousands of everyday athletes at home.
Wattbike was born more than 20 years ago with one goal – to create the ultimate indoor training bike. No other indoor trainer measures every pedal stroke and revolution so precisely, giving instant insights to get the most from every workout.
Expertly crafted and designed in the UK, Wattbikes are tough enough to withstand the intense training of elite athletes, while beautiful enough to sit in the homes of everyday athletes too.
The Wattbike Atom retails at £1,999 – for more information please visit: https://wattbike.com/products/wattbike-atom
CONTACT
Kate Allan – Compete PR
+44 7754 072648