Wattbike launch second series of 'Push Your Peak' podcast – presented by Louise Minchin
November 2, 2022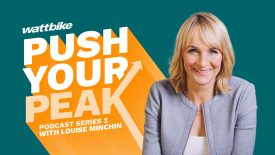 Back by popular demand, indoor cycling and performance brand, Wattbike announce the launch of the second series of their 'Push Your Peak' podcast, presented by broadcaster and endurance athlete Louise Minchin.
Wednesday 2nd November 2022 – UK /ENDURANCE SPORTSWIRE/ – Push Your Peak is a podcast series for athletes who don't know their limits, in which journalist and athlete Louise Minchin talks with some of the world's most inspirational athletes about how they got to where they are today. The inaugural season of Push Your Peak aired in February 2022 and was a huge success; achieving a #4 ranking via Apple Podcasts 'Health and FItness' and #10 via Spotify's 'Health and FItness' categories respectively.
As a former BBC Breakfast presenter and passionate triathlete and cyclist, Louise is expertly placed to guide these conversations, deep diving into what it takes to push beyond mental and physical boundaries and to give listeners inspiration and confidence to do the same.
Listeners can like and subscribe to listen to a new episode of Push Your Peak every Wednesday, with the first episode set to air on Wednesday 2nd November 2022.
Kicking off series 2 is one of Britain's most successful NFL stars Efe Obada, who currently plays as a Defensive End for the Washington Commanders. Born in Nigeria, Efe moved to England at the age of 10, and he was the first player to go straight from a UK American Football team to the NFL, starting his career at the London Warriors in 2014. Efe is having a huge impact on the growth of NFL in the UK and is an ambassador of the NFL UK Academy. In this fascinating episode, Efe talks about how he got into the NFL, the demands of the game and his ambitions for the season.
Jessica Dalgliesh, Content Marketing Manager at Wattbike, said, "we're delighted to launch the second series of Push your Peak, and to build upon the success of the inaugural season. It allows us to showcase the journey of some incredible athletes and teams, and share their stories with our listeners, to inspire and motivate people on their own journeys".
Louise Minchin, Push your Peak presenter, said, "I really enjoy working with the team at Wattbike, and have had a lot of fun recording the second series of Push your Peak. I was honoured that they invited me back, and have been blown away by the incredible stories that our inspiring athletes share -I'm really excited to share it with the world!"
Push Your Peak is available to stream via the Wattbike website, as well as through Spotify and Apple.
———————————————————-ENDS————————————————————-
ABOUT WATTBIKE
Wattbike is the original, indoor smart bike innovator, offering the most sophisticated yet accessible cycle training tools used by champions, athletes and fitness enthusiasts worldwide.
Wattbike's mission is to help improve the fitness and performance of every athlete in the world – and anyone who can ride a Wattbike is an athlete. That's why Wattbike is chosen by both the world's top sporting teams such as the All Blacks, as well as thousands of everyday athletes at home.
Wattbike was born more than 20 years ago with one goal – to create the ultimate indoor training bike. No other indoor trainer measures every pedal stroke and revolution so precisely, giving instant insights to get the most from every workout.
Expertly crafted and designed in the UK, Wattbikes are tough enough to withstand the intense training of elite athletes, while beautiful enough to sit in the homes of everyday athletes too.
The Wattbike Atom retails at £2,399 – for more information please visit: https://wattbike.com/products/wattbike-atom
CONTACT
Kate Allan – Compete PR
+44 7754 072648