Virtual Tour of Africa by Giant & Liv welcomes all to explore Southern Africa with its prominent riders
March 3, 2022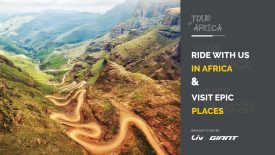 South Africa is ready to be explored on ROUVY, with Giant and Liv bringing special new bikes into the app. The Tour of South Africa has just started, with 4 Races and 2 Group Rides, for anyone to enjoy from the comfort of one's own home.
South Africa/March 3rd, 2022  /ENDURANCE SPORTSWIRE/ – A big adventure awaits everyone in the vast deserts, steep mountain passes and rugged coastlines of Namibia, South Africa and Lesotho. Africa is really an amazing place and absolutely worth exploring. Though, for many reasons, it is not always very easy to scout it on a bike. Now, thanks to the rollout of six fresh routes and a number of events, cycling lovers have a great chance to ride through stunning locations that one would probably have never been able to explore at all, let alone on a saddle.
6 fresh routes in ROUVY's augmented reality:
Sani Pass, the mother of all passes, hosting the highest pub in Africa
Lesotho Highlands, traveling through history
Cape Point, historic taste of a world class event
Tankwa Karoo, the King of the Gravels
Moonlight Desert of Sossusvlei
Cederberg Mountains, Home of the Rooibos
"We believe that the incredible partnership that has been forged with ROUVY provides exposure and will eventually lead to increased tourism to our beautiful country, South Africa, and her surroundings, inspiring potential visitors to include us on their bucket list of Travels, one day," says the project founder and director, Bianca Le Roux.
RACE SCHEDULE
Mar 2 | TOUR OF AFRICA by Giant & Liv #1
Mar 4 | TOUR OF AFRICA by Giant & Liv GR #1
Mar 5 | TOUR OF AFRICA by Giant & Liv #2
Mar 9 | TOUR OF AFRICA by Giant & Liv #3
Mar 11 | TOUR OF AFRICA by Giant & Liv GR #2
Mar 12 | TOUR OF AFRICA by Giant & Liv #4
Three time zones available for EU, USA and Asia.
Participating star riders: Mariske Strauss, Bianca Le Roux, Marco Joubert
REGISTRATION
https://rouvy.com/series/tour-of-africa
South African Event Partners
From Ticket sales to your favourite events, to cashless services to keep you safe, we offer it all; visit our website for endless events.
Ticketpro Travel caters to all your travel needs. Flights, hotels, car rentals, we have it all whether you are looking to go local or travel abroad.
Virtual Insanity Cycling are the pioneers in the Virtual Cycling space in Africa. Since 2020, we have dedicated time, funds and skills in driving our continent to the forefront of this vastly growing world of Virtual Cycling. Follow us on socials #Virtualinsanityza
RIDE UNLEASHED WITH GIANT
Each of us has our own challenges, goals and reasons to ride. At Giant, the purpose is to help athletes to unleash their full potential no matter the chosen path. Giant does this with their products, the people and the stories they share. Come feel what it's like to be limitless. Come ride with Giant. Join the series and ride the digital version of the Giant TCR bike now!
LIV PUTS WOMEN FIRST
LIV is working to get more women on bikes, on the podium, and at the table. Teaming up with women at every level of cycling, in every discipline, around the world, because they help Liv to make the bikes and the sport even better. When you ride a Liv bike, you're investing in women. Join the racing series and ride your Liv bike in the App!