Velo Saddles Introduces Nitrogen-Infused AtmosFoam to The Cycling Industry
September 9, 2022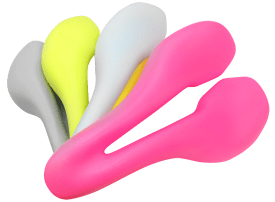 Leading saddles manufacturer, Velo Saddles, introduces their new Velo AtmosFoam (VAF)
/ENDURANCE SPORTSWIRE/ – Leading saddles manufacturer, Velo Saddles, introduces their new Velo AtmosFoam (VAF), a nitrogen-infused foam designed to enhance performance and durability attributes in their products while minimizing the environmental impact of the production process. Velo AtmosFoam is lightweight and provides incredible support for the rider's sit bones to improve comfort and performance. Nitrogen infusion technology has been widely used in the footwear industry in the last decade, and now Velo is bringing the same technology to the bicycle saddle.
"We are excited to be the first to introduce this type of foam to the cycling industry. Velo is continuously looking for innovative ways to increase cyclists' performance and comfort while researching eco-friendly manufacturing methods," said Ann Chen, Vice President of Velo Saddles.
Velo AtmosFoam uses nitrogen in the foam production process, allowing for benefits on and off the bike. Nitrogen is the most abundant element – it's in the soil under our feet, in the water we drink, and in the air we breathe. The VAF nitrogen forming process eliminates the use of chemical additives and helps reduce CO2 emissions, creating a more eco-friendly production process. VAF is lighter and more responsive compared to other foam compounds with finer pore structures. In addition, the microcells in VAF are evenly distributed, providing consistent rebound and shock-absorbing capabilities. The new foam also provides lower thermal conductivity keeping the contact with the saddle cooler in hotter weather conditions.
The introduction of Velo AtmosFoam is just one of the recent steps that highlight Velo's commitment to a more sustainable future and improving our planet's social, economic, and environmental well-being. The Velo AtmosFoam will be available in Velo's aftermarket models and for OEM/ODM customers.
Media Contact: Sarah Lukas | sarah@thorpemarketing.com
About Velo Saddles
For 15 million cyclists a year, Velo feels right. Velo Enterprise began with one woman's vision to create perfect saddles for all types of demanding cyclists. In 1979, Stella Yu founded Velo Enterprise Co., Ltd. to meet the individual needs of every cyclist. Velo now looks back at over 40 years of consistent development and learning from this experience. The company is proud to be among the world's leading designers and manufacturers of high-quality saddles, grips, and handlebar tape, confirming that "For 15 million cyclists a year, one brand just feels right!" Driven by a constant pursuit of success, Velo uses its expertise to tailor all its products for different types of cyclists, including recreational riders, passionate cycling enthusiasts, and professionals.