Velo Introduces the Angel Revo Halo Saddle Featuring ETPU Foam
June 19, 2023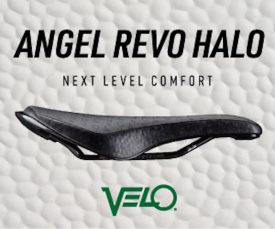 After launching the Angel Revo with nitrogen-infused Atmos Foam in 2022, Velo is excited to bring a new level of comfort with Halo Foam which utilizes ETPU.
EUROBIKE – FRANKFURT, Germany /ENDURANCE SPORTSWIRE/ – Velo Saddles introduces their first saddle to include ETPU foam, the Angel Revo Halo. After launching the Angel Revo with nitrogen-infused Atmos Foam in 2022, Velo is excited to bring a new level of comfort with Halo Foam which utilizes ETPU. Offering expanded thermoplastic polyurethane foam (ETPU) as a foam option offers riders numerous benefits, including improved comfort, shock absorption, and durability. The Angel Revo Halo is available with titanium rails in 248mm length and 148mm width.
Commonly used in sporting items, ETPU is produced by heating and expanding thermoplastic polyurethane pellets under pressure, resulting in a lightweight, flexible foam that compresses and rebounds quickly. The use of Halo Foam in the Angel Revo provides exceptional shock absorption properties, effectively reducing the impact of bumps and vibrations from the road or trail, significantly enhancing rider's comfort, especially during long rides or on epic gravel adventures. Halo Foam is also highly elastic and has excellent shape recovery, allowing the saddle to adapt and conform to the rider's body contours. This personalized fit minimizes pressure points and promotes blood circulation, preventing numbness and discomfort.
Blending popular features from their Senso TT and Angel TT performance saddle, the Halo maintains its original design of the Angel Revo. It includes Velo's patented pressure relief Y-Cutout, the longest cutout of previous models providing enhanced comfort for long rides. Additionally, the design uses Velo's proprietary EuphoraBase shell, a non-petroleum-based hybrid bioplastic using plant-based materials and glass fiber. Patented Atmos Shaping technology combines Halo's Omnicover and the base without visible seam. This innovative technology ensures 100% waterproof and is easier to clean after use. The Halo Omnicover is made from recycled polyurethane (PU) and knitted metallic threads, offering exceptional durability and water resistance. It provides a balanced level of traction, ensuring a comfortable and secure connection between the rider and the saddle.
The Angel Revo Halo will be available summer of 2023 and has a target MSRP of US$125.
Dimensions: 248x148mm
Rails: Ti rails
Price: $125USD
Weight: 245g ±2% – ti rails
Colors: Monogram
Tech Features:
Halo OmniCover
Halo Foam (ETPU)
EuphoraBase
Y-Cutout
Atmos Shaping
See Velo Saddles and the new Angel Revo Halo at Eurobike: Hall 12.1, A10
Media Contact: Sarah Lukas | sarah@thorpemarketing.com
About Velo Saddles
For 15 million cyclists a year, Velo feels right. Velo Enterprise began with one woman's vision to create perfect saddles for all types of demanding cyclists. In 1979, Stella Yu founded Velo Enterprise Co., Ltd. with the goal of meeting the individual needs of every cyclist. Velo now looks back at over 40 years of consistent development and learning from this experience. The company is proud to be among the world's leading designers and manufacturers of high-quality saddles, grips, and handlebar tape, confirming that "For 15 million cyclists a year, one brand just feels right!" Driven by a constant pursuit of success, Velo uses its expertise to tailor all of its products for different types of cyclists, including recreational riders, passionate cycling enthusiasts, and professionals.