USATF U20 Mountain Running Team Announced
April 24, 2023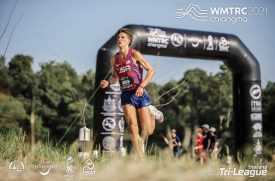 Team to compete in the World Mountain & Trail Running Championships in Austria
/ENDURANCE SPORTSWIRE/ – Eight athletes have been named to the 2023 USATF U20 Mountain Running Team slated to compete in the 2nd World Mountain and Trail Running Championships on Sunday, June 10, in Stubai – Innsbruck, Austria. The race will start in the center of town at Landestheater Vorplatz.
The one-loop course is 6.7-kilometers with 360 meters of climbing and descent. There will be a mix of terrain including a short amount of pavement, ski trails, grass and dirt paths and The top three finishers score for the team and medals are presented to the top three teams and top three individuals in both the U20 women's and U20 men's divisions.
The U.S. squad will consist of 4 women and 4 men including: (age on race day)
Milaina Almonte, 17, Edwards, CO, Battle Mountain High School.
Milaina is an avid mountain runner who competed at the U18 Youth Mountain Cup in Italy in 2022. Her personal bests include a 5:08 1600 meters and an 18:04 5km cross country time. She has completed twice at the National High School Trail Championships and finished 4th in 2022. "After racing for the U18 team in Italy last year, I was looking forward to another opportunity to represent the country in such a great sport. I knew it would be an amazing experience and hoped to make more great memories. I'm looking forward to exploring a new country, meeting athletes from around the world, and racing alongside a best friend. I can't wait to be able to contribute to this team and meet all of my teammates."
Lily Jin, 17, Wellesley, MA, Wellesley High School.
Lily comes to the team with a 17:42 track 5000 meters personal best as well as 2:15 800 meters, 10:45 3200 meters and 18:31 5k cross country best times. This past March, Lily competed at New Balance Indoor Nationals in the 800 as well as the 1 mile and 2 mile races. "When my coaches told me about this race, I was pretty incredulous and intimidated by how daunting it sounded. However I ended up applying for a spot on the team because I knew this would be a once in a lifetime opportunity. Representing Team USA in a race with athletes from around the world on a grueling course in a beautiful country will be an experience that I'll never forget, and a challenge that I am so excited to take on."
Lindsey Whitton, 17, Edwards, CO, attends Vail Christian High School (runs for Battle Mountain High School).
Lindsey is an avid trail runner who has a personal best of 18:17.30 in 5km cross country and finished 25th at NXR Southwest Champs. Whitton will also bring the strong legs of a nordic athlete to the team. In 2022 she won the Colorado State Skimeister Champion (combined giant slalom, slalom, skate ski and classic ski) for the second year in a row. "I am really honored to have been selected to be a part of Team USA and to represent my country in Austria this June! The chance to meet other young people from all over the world, who share a common passion for trail running, will be a once-in-a-lifetime opportunity that I will never forget. This race also holds special meaning, as it will be my last race with my close teammate and friend, Milaina, who will be heading off to college in the fall."
Samatha Wood, 18, Boise, ID, Boise State University.
Samantha was a two-time state champion in cross country in high school and had competed in conference and regional meets in cross country at the collegiate level. Her 5km cross country personal best is 17:12 and she also has run bests of 2:12 800 meters, 4:53 1600 meters, and 10:34 3200 meters. "To be representing Team USA in Austria this June is such an honor. Having adored the running community from a young age, I have always been on the hunt for opportunities to race; be that in local turkey trots, local trail races, or competing in cross country and track throughout high school and now college. But, never in those turkey trots did I ever expect myself to be a part of an opportunity as big as representing the United States. Being presented with this opportunity has caused me to ponder the vast similarities between trail running and life as a whole: sticking to one's own path regardless of the seemingly insurmountable obstacles in the way, leaning on community to raise oneself higher, and finding joy in the small moments.
"I am thrilled for this opportunity to showcase the power of the running community and self-belief with a Team USA jersey on my chest. Beyond the race, I am beyond excited to meet my Team USA teammates and athletes from around the world as we collectively chase our dreams this June."
Michael Maiorano, 19, Medford, OR, Gonzaga University.
Michael returns to the team after competing last year as part of the U20 Team in Chiang Mai, Thailand where he finished in 7th place. Michael has run 4:06.3 in the mile and has a 5km cross country personal best of 14:48 and 23:33 8km cross country best. Recently he finished second at the 47th Pear Blossom 10 Mile run in Oregon in a time of 52:59, second to mountain running veteran, Max King. "I am most looking forward to not only traveling with the hard working and gracious U.S. team, but also doing so with my college roommate, Caleb Richardson as well as my good friend Wes Shipsey dating back to middle school. Spending time with trail runners from around the country as well as meeting new friends from foreign places was easily the highlight of Thailand last fall. Hoping this second world champs I can stay in better health than last time and improve alongside some of my current and future best mates.
"To me, representing my country in such a beautiful place with beautiful people is likely the greatest opportunity in athletics. My second trip to the WMTRC isn't as much about feeling out the atmosphere and soaking up the experience, but rather about racing as hard as I can. My priority is to be a leader for the junior team and a disciple of all the greatness around me."
Kenan Pala, 19, San Diego, CA, Yale University.
Kenan currently competes for Yale after a strong high school career that included finishing second at the Eastbay/Foot Locker cross country champs. His personal bests include a 14:51 5km cross country time as well as a 14:18 5000 meters and 1:55.70 800 meters on the track. His summer training consists of frequent trail and mountain runs in the Sequoia National Forest. Outside of running, Keenan founded Kids4Community, a non-profit organization that feeds the homeless and gives lessons of awareness to teens about homelessness in the San Diego area. "As immigrants from Turkey, my parents instilled in me a deep respect for the USA that stems from humility and gratefulness. To represent my country on the trails would be to represent what my parents immigrated for: the chance to prove how much success is possible with a focused and determined mindset. It is an incredible honor and a dream come true.
"As a part of the team, I am excited to compete to test my skills against the best in the world while proudly representing the USA. The atmosphere of international competition is unrivaled. By meeting athletes from other countries, bonding with my teammates, and exploring the culture and traditions of Austria, I look forward to gaining experiences that will last a lifetime. I feel confident about my training, but am determined to put more work in on hills. By improving my technical skills and physical conditioning, I will best prepare myself for the elevation gains and rigorous course. Additionally, I want to focus on mental preparation. Creating techniques to help manage stress and anxiety and maintain focus will help me stay motivated throughout the competition and help me maximize my training."
Caleb Richardson, 19, Spokane, WA, Gonzaga University.
Like Michael, Caleb attends Gonzaga University where he competed for their track and cross country teams. His personal bests include an 8:46 3000 meters and 15:22 5km and 24:36 8km cross country times. Michael is no stranger to trails and mountains as he competed in the Race the Wolf 8k mountain race that includes close to 900 feet of elevation gain. "I learned about the team through my friend and roommate Michael Maiorano. I got to witness him from being accepted on the team to eventually competing on the world stage. Seeing him have the ability to compete on an elite level really swayed me to apply for a spot-on next year's team. The biggest thing I'm looking forward to is just having the ability to compete on a global level representing my country. Opportunities like this don't come too often and I feel extremely blessed to be a part of this team. I look forward to the competitive atmosphere that a race like this could produce and I can't wait to enjoy every second of it while competing at the highest level."
Wes Shipsey, 19, Portland, OR, Central Catholic High School.
Wes trains on the trails and has won the Steens Mountain uphill 5k. His personal bests include 1:52 800 meters, 8:58 3200 meters and a 14:50 5km cross country time. Wes was also the Nike Indoor National Champion in the Mile in 2022. "Representing Team USA has been a dream of mine since I began running. I never could've imagined the places running could take me and I'm super excited to take on the Austrian Alps this June. A big thank you is due to Michael Maiorano for sharing this opportunity with me, and I largely credit my time at the Steens Mountains for my introduction to true mountain running and my love for the sport."
Team Staff
Paul Kirsch is the team manager for the U20 squad and will work alongside the entire staff who will be on hand to support the 48-member contingent from USA competing at Worlds. The staff includes Anita Ortiz, Richard Bolt, Carol Passarelli, Tom Hooper, and Jason Bryant.

"We had so many incredible athletes apply for this year's team. It is quite evident that word is getting out on how incredible an opportunity it is to be part of the US Mountain Running Team," noted Kirsch. "I am really looking forward to supporting the 8 athletes we selected in Austria in June. I think they are going to have great performances."
Athletes from more than 50 countries are expected at this year's World Mountain and Trail Running Championships. More information can be found here.
####