USA Triathlon Approves 80/20 Endurance Coaching Certification for 4 CEUs
August 9, 2023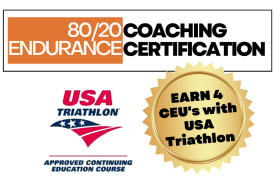 Lehi, UTAH/ENDURANCE SPORTSWIRE/ – 80/20 Endurance, a trailblazing provider of online training resources for endurance athletes and coaches, is thrilled to announce a major achievement: our renowned 80/20 Endurance Coaching Certification Course has been officially endorsed by USA Triathlon, enabling participants to earn 4 Continuing Education Units (CEUs).
"This milestone solidifies the exceptional merit and influence of our training methodology within the endurance sports community," says Leyla Porteous, Director of Operations & Training at 80/20 Endurance. "Our dynamic and self-paced certification program offers a comprehensive immersion into the application of the 80/20 intensity balance and other fundamental principles that are pivotal in elevating your coaching prowess."
Enrolling in the 80/20 Endurance Coaching Certification Course promises not only access to a wealth of knowledge and hands-on skills but also the acquisition of 4 CEUs, approved and accredited by USA Triathlon. For coaches seeking to maintain their credentials under USA Triathlon, the 80/20 Endurance coaching certification course is a great option for meeting the recertification requirements.
"At 80/20 Endurance, we believe in the power of holistic and progressive coaching, which is why we are thrilled to provide an avenue for coaches to not only advance their knowledge but also secure official recognition for their continuing education efforts," adds Porteous.
The comprehensive certification program covers a diverse array of topics, including mastery of core principles underpinning endurance training, differentiation of various workout categories and training intensities, effective measurement and manipulation of training loads, and integration of periodization and peaking in designing training plans. Coaches will also learn about equipping athletes for race-day success, implementing the 80/20 Endurance training principles across varied sports, and integrating strength and mobility training into endurance athletes' training.
Moreover, the course delves into the art of coaching the mind and steering athletes toward sports mastery, navigating the business aspects of coaching, and cultivating and continuing an ethical coaching practice.
For more information about the 80/20 Endurance Coaching Certification Course and our wide array of offerings, please visit our website at www.8020endurance.com
###
About 80/20 Endurance:
80/20 Endurance LLC is the world's largest dedicated provider of training plans and solutions for endurance athletes. The company's mission is to make elite best practices in endurance training available to everyone. More than just a training method, 80/20 Endurance is a global community of likeminded athletes and coaches who are brought together by a diverse array of offerings that include books, a podcast, virtual conferences, coaching certification and education, a charitable foundation, and more. The company's training methods are built on the optimal intensity balance and other empirical principles outlined in the co-founders' best-selling books 80/20 Running and 80/20 Triathlon.
Media Contact:
Leyla Porteous
leyla@8020endurance.com