USA Cycling Announces Partnership with Momentous
October 13, 2021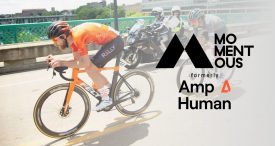 Momentous joins forces with cycling's national governing body for the next two years to provide sports performance lotion to racers and riders at all levels.
COLORADO SPRINGS, Colo – USA Cycling is proud to announce their partnership with Momentous, and their cutting-edge performance product PR Lotion. Momentous is a performance nutrition company dedicated to creating products that support the relentless pursuit of progress in human health and performance.
The company has a core consumer base within the cycling community and in other sports such as triathlon and running, boasting unprecedented access at the highest level, with a combined sell into 200+ professional and D1 college athletic teams. This makes the partnership with USA Cycling a natural fit.
"We are looking forward to this relationship with Momentous + Amp Human," said Bouker Pool, USA Cycling's Chief Commercial Officer. "This partnership will allow riders and racers alike to have the chance to improve their training and overall performance."
USA Cycling Members can receive 20% off products from Momentous by logging into their membership account. Members will also benefit from product education, expert advice, and athlete stories all housed on livemomentous.com.
"We are excited to be continuing our partnership with USA Cycling with our patented and clinically-validated product, PR Lotion, and our other clean and high-quality performance nutrition products," said Jeff Byers, Momentous CEO. "It's an honor and a privilege to support our racers in stars and stripes on the world's biggest stages and all of the riders looking to push themselves every day."
Visit usacycling.org for more information on the athletes, events, and membership programs, and follow @USACycling across all channels for the latest on Team USA.
For more information on USA Cycling Partnerships, please contact Oriol Brull at obrull@usacycling.org.
To learn more and shop the best of Momentous, visit livemomentous.com
ABOUT MOMENTOUS (livemomentous.com)
Momentous empowers the relentless pursuit of progress in athlete health and wellness. We strive to create no-compromise products that support the endless improvement of athletic performance. Our mission drove us to seek out the absolute best knowledge of nutritional supplements in order to be able to deliver formulas with complete transparency and free of fillers and inferior ingredients. Momentous products are 100% NSF Certified for Sport across the line, taste great and perform. Momentous products are now purchased by more than 200 professional and collegiate teams and performance facilities from the NBA, NFL, MLB, NHL, and NCAA.
ABOUT USA CYCLING (usacycling.org)
USA Cycling is the national governing body for the sport of cycling and oversees the disciplines of road, track, mountain bike, cyclocross, and BMX. USA Cycling's mission is to champion accessibility, participation, and excellence in the sport of cycling to make more Americans healthier, happier, and better on two wheels while achieving sustained international racing success. USA Cycling supports cyclists at all levels, from those just beginning in the sport and participating in fun rides to international caliber racers. The organization identifies, develops, and selects cyclists to represent the United States in international competition through the support of kids' and interscholastic programs, amateur bike racing and grassroots development programs, and the provision of critical infrastructure to run organized racing. USA Cycling has a membership of 100,000, annually sanctions over 2,500 events, and is a proud member of the Union Cycliste Internationale (UCI) and United States Olympic & Paralympic Committee (USOPC).