USA Cycling Announces Partnership Renewal with Pilates For Sports
September 30, 2021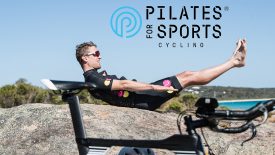 USA Cycling and Pilates for Sports continue partnership for an additional two years.
COLORADO SPRINGS, Colo – USA Cycling is pleased to announce the renewal of their partnership with Pilates for Sports, an online Pilates training program that focuses on strength and conditioning specifically for cyclists.
USA Cycling members will continue to get access to the Free 28-Day Challenge where they can get your own personalized program and experience the benefits of Pilates for Sports. Workouts are provided online, require no specialized equipment and are suitable for all levels of experience, from first-timers to world champions.
"We are excited to continue working with USA Cycling to provide members with programs to reduce injuries and improve their performance. Athletes all over the world have had amazing success with our online programs and we love to see the amazing improvements made in the individuals we work with," said Principal Instructor Noeleen O'Shea.
Pilates for Sports provide customized online Pilates training program that help cyclists achieve their best focusing on maximum efficiency, optimal power output, injury recovery and prevention, and posture.
Member Benefits:
All USA Cycling members will receive a 20% discount on all monthly cycling programs with Pilates for Sports.
Pilates for Sports are offering a Free 28-Day Cycling Challenge for you to complete at home. To access this offer, log into your USA Cycling account and click on Member Benefits.
All USA Cycling coaches will be provided free access to education on strength and conditioning using Pilates.
Visit USACycling.org for more information on the athletes, events and membership programs, and follow @USACycling across all channels for the latest on Team USA.
For more information on USA Cycling Partnerships, please contact Oriol Brull at obrull@usacycling.org.
ABOUT PILATES FOR SPORTS
After working extensively with athletes from a range of disciplines, the innovative founders of Pilates For Sports, knew first-hand the benefits Pilates can provide athletes, both in the reduction of injuries and their increased ability to produce power as a result of a strong core.
The Pilates for Sports online training programs were born. The innovative strength and conditioning programs can be done anywhere, anytime to suit the needs of all levels of athlete. Customised training plans, graduated Pilates workouts, mini-challenges and form tips combine to help the athlete improve in their chosen sport.
The company is committed to continuous innovation within the field of strength and conditioning, with the creation of high quality, online training programs for a range of sports.
To achieve your best, click here and start your free 28-day cycling challenge now.
ABOUT USA CYCLING (usacycling.org)
USA Cycling is the national governing body for the sport of cycling and oversees the disciplines of road, track, mountain bike, cyclocross, and BMX. USA Cycling's mission is to champion accessibility, participation, and excellence in the sport of cycling to make more Americans healthier, happier, and better on two wheels while achieving sustained international racing success. USA Cycling supports cyclists at all levels, from those just beginning in the sport and participating in fun rides to international caliber racers. The organization identifies, develops, and selects cyclists to represent the United States in international competition through the support of kids' and interscholastic programs, amateur bike racing and grassroots development programs, and the provision of critical infrastructure to run organized racing. USA Cycling has a membership of 100,000, annually sanctions over 2,500 events, and is a proud member of the Union Cycliste Internationale (UCI) and United States Olympic & Paralympic Committee (USOPC).