US Trail Running Conference Webinar Provides Path to Carbon Neutral Trail Races
February 11, 2022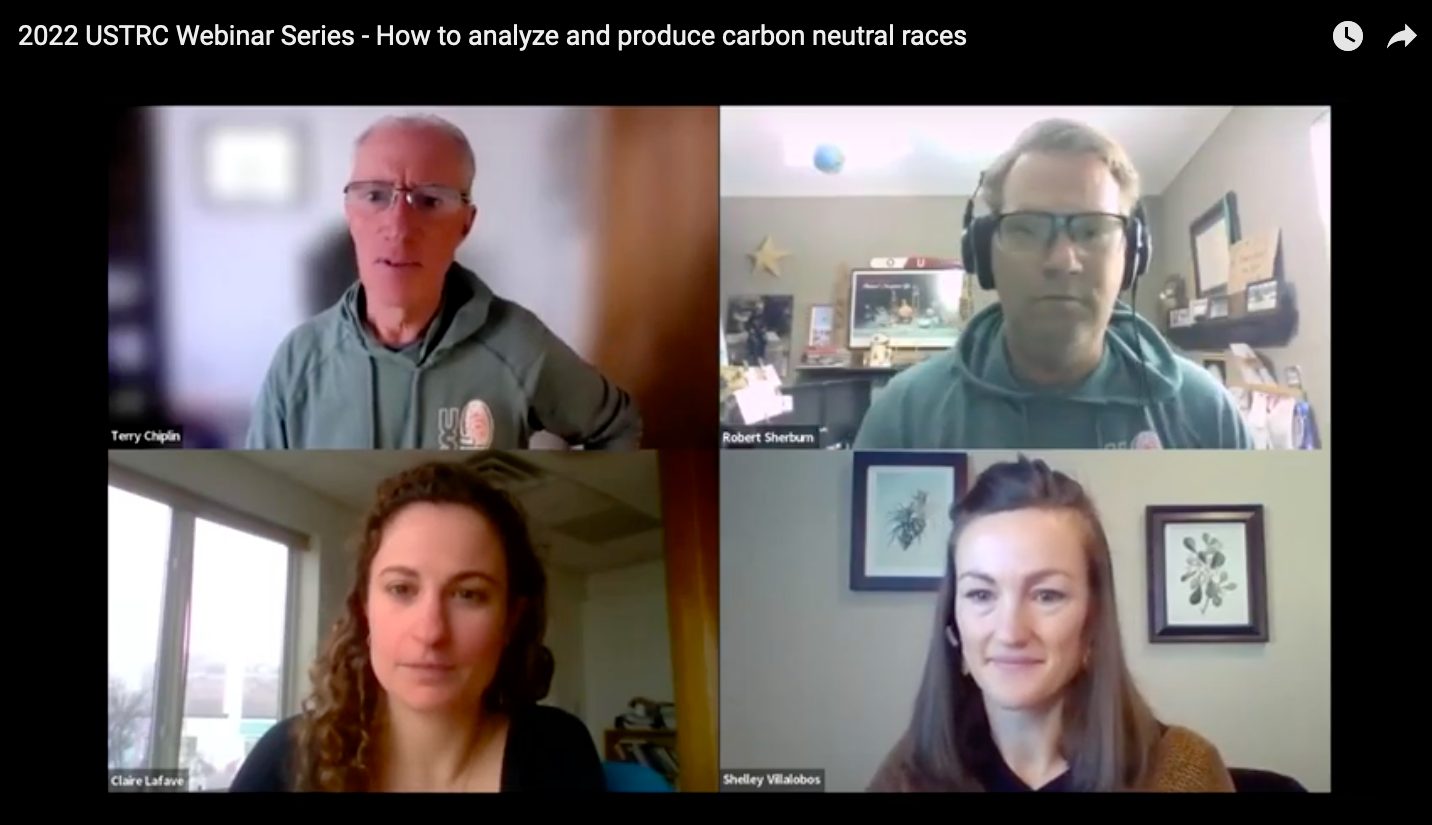 Timely advice to enable race directors to analyze and produce races that can fully offset carbon emissions
Estes Park, CO /ENDURANCE SPORTSWIRE/ – The first webinar in a seven-webinar series produced by the US Trail Running Conference and presented by Marathon Printing, the leading producer of custom printed items for endurance sports, was live on Thursday, February 3. The session subject that opened the eagerly awaited series was: How to analyze and produce carbon neutral races. The webinar series is held in partnership with the American Trail Running Association.
This webinar's content focused on step-by-step practices that race directors and event organizers can follow to enable them to analyze and ultimately be able to produce races that have a carbon neutral emissions footprint. Panelists were Shelley Villalobos, Executive Director, Council for Responsible Sport, Claire Lafave, Client Strategy Manager, Native, A Public Benefit Corporation & Certified B Corporation, Porter Bratten & Ben Rist, Orca Running & Evergreen Trail Runs, & Terry Chiplin, US Trail Running Conference.
Villalobos introduced the results of a recent research study from the Council for Responsible Sport (CFRS) that investigated the GHG (greenhouse gas emissions) of 29 mass participation events that took place in North America. The results highlighted that 98.5% of an event's footprint came from event-related travel by participants. "As an organizer you have pretty limited ability to rein in the direct operational greenhouse gasses in terms of how that will affect the overall footprint….Then the question becomes, what do we do about it? The general idea here is to measure, then mitigate, and then manage." The Council for Responsible Sport does have tools available that can assist race directors and event organizers measure their footprint. To help reduce travel miles, event organizers can encourage and enable carpooling and shuttling, and keep course locations nearer to where participants live wherever possible.
"The key action is to invite participants to purchase GHG offsets. It's not an ideal solution, but it is the solution we have right now." The average GHG offset to be cost neutral for race organizers in the CFRS study was $3.80 per participant. It is then recommended to incorporate a call to action within the registration flow and to share information with all participants about why this is important to the event leaders and recognize those who offset to encourage others.  CFRS will also be introducing in the near future an on demand app called Rescore that allows event organizers to measure their events against event standards.
A poll at this point during the webinar asked: "How many of you have been impacted in some way by climate change over the last year?" 73% of respondents answered yes, 18% answered maybe, and 9% answered no.
Next up were Porter Bratten and Ben Rist from Orca Running and Evergreen Trail Runs respectively. Orca Running and Evergreen Trail Runs decided to go carbon neutral for all their races in 2022. Porter shared that there were two really big reasons for this: "The first and the biggest one, is that it's the right thing to do. I want the earth to be around for my children, and I have three of them. Every company and individual needs to take steps to reduce their carbon footprint, or reduce it to zero. The second, and smaller reason, is that it can be a marketing angle, where somebody sees that a business is carbon neutral or offsetting their carbon footprint to some degree, that could be a reason to sign up for your race instead of another race."
Porter also shared that analyzing emissions for his races had not necessarily been straightforward, and that he had a quote from an outside company to do an audit that cost $5,000, so decided to bring analysis in house. "For this first year we are primarily bringing our carbon footprint down to zero by means of offsets. The ideal is that each company brings their carbon footprint down as low as possible by eliminating emissions in the first place, and then offsetting whatever is remaining. The major factor is measuring the carbon footprint as close to being accurate as we can….as long as you can make as educated an estimate as possible. If you're good with spreadsheets and like numbers, it's not that hard."
Rist shared that they analyzed data from 2019 to enable meaningful analysis from an exemplary year, and that it would be easier to carry on their analysis on an ongoing basis. He also echoed the research data shared by Villalobos where participant travel is the largest element of footprint for a race. "With registration data, you can get an estimate, as the crow flies, for distance traveled, for all your participants to travel to the events, and then boil down a number that makes sense for you to offset. Aside from carpooling, participant travel is one of those things that you will never get down to zero, and then you can offset."
Rist added that they exported data from their registration platform, RunSignup, and then used a spreadsheet platform like Excel or Goggle sheets. They also used a survey to past participants that gave an estimate of openness to emissions offsetting and reducing travel emissions by carpooling that generated very useful results. They also used various online calculators that gave elemental data.
Porter added that he has a friend that works for the Nature Conservancy, "He pointed me toward a company called South Pole…..we purchased our offsets from them in advance for all of 2022, the idea being that buying in bulk saves money, and that offset costs are going up, so it saves money to buy it now. So we have added a carbon offset surcharge to registration prices. Everyone is paying, it's not optional, less than $1, so we will get that money back gradually over the year. We selected a wind turbine project in North Dakota that is reputable, as there are a lot of offset choices out there."
Then Lafave explained, "Native are a small independent carbon offset provider, based in Burlington, Vermont. We are looking for project types and folks that are wanting to make a climate intervention, and don't have the funding to do so, and then going in and doing the due diligence and getting carbon financing to those actors." She added a definition of carbon offset, where 1 carbon offset = 1 metric tonne of CO2e removed or avoided. Removal options include technology or living biomass like trees or soil. Avoiding emissions is where a tonne of CO2e would have been emitted were it not for a specific intervention.
"Generally events are making an estimate of the emissions associated with their activity, and then they are looking for projects to purchase an equivalent number of tonnes, or maybe more, to balance out that footprint. Balancing out is not the only action you can take, finding ways to reduce emissions is important as well. There are still going to be those residual emissions, especially those associated with participant travel, and finding a carbon offset project you are excited to support is a great way to manage those."
Lafave also shared details of the calculators that Native is able to provide for businesses and individuals, including more detailed, free custom analyses that provide more flexibility. "None of our calculators cover a full life cycle analysis, such as the materials for a product or the manufacture associated with that. However, that is likely to be a really small percentage of the footprint for your race. We encourage you to experiment."
Chiplin then covered the analysis of the GHG emissions for the 2021 US Trail Running Conference, which took place in Fayetteville, Arkansas in October 2021. He stressed "the importance of using estimations where necessary as there can be many moving parts to putting on an event." Data was shared for the operational footprint for the 2021 Conference – this comprised volunteer and staff transportation, 3.94 tonnes, apparel production and shipping, 3.14 tonnes, power usage, 0.055 tonnes, and waste produced, 0.005 tonnes, leading to a total of 7.14 tonnes CO2e. Chiplin added some guidelines, including planning ahead, that enabled him to have accurate data on power usage at the location, and for waste diversion that enabled accurate data for waste production. He used Native calculators exclusively, along with some data estimates provided by Native for specific apparel items, power usage, and emissions generated from waste.
"Carbon neutral is a great first step that we should be aiming towards. However I was also aware that as a sport, and society, we have been drawing down from the future for years now – I decided to take it a step further and to pay forward to the future. The offset that I purchased was greater than the estimated emissions the Conference created, and I added in a 40% buffer to make the event operationally carbon negative. I also estimated participant travel in a separate analysis at $4.00 per participant for 2021, so have added in a $5 surcharge for our 2022 event, with a view to making the entire Conference carbon negative in 2022."  He finished by covering details of the carbon offset project, Medford Springs Grassland Conservation, that he had decided to fund from the options presented by Native. This project is an important grassland ecosystem in Colorado.
ATRA's executive director Nancy Hobbs said, "The content from this webinar showed that carbon neutrality can be achieved by race directors with the right planning, tools, and tips. Hopefully it will be the impetus for all race directors to evaluate their events and move in this carbon neutral direction to help make a difference to our environment and ultimately to our planet."
Each webinar is presented by industry leaders in their respective fields, and offers
information that can boost a race director's knowledge and afford insight into innovative practices to implement at their events. Every participant receives a slide deck with step by step information that includes best practices from the expert presenters. There will also be an opportunity to follow up on deliverables in-person at the 2022 US Trail Running Conference to be held October 19-22, in Mukilteo, Washington.
Active at Altitude, organizers of the US Trail Running Conference and the webinar series, reported a 62% live participation rate for the webinar, and a 100% attendance rate when factoring in session recording views. Attendees representing more than 18 states, as well as Canada, North Macedonia, Great Britain, and New Zealand participated.
###
More info:
For details on the US Trail Running Conference and the webinar series, go to https://ustrailrunningconference.com
Contact Event Director, Terry Chiplin for further information, terry@ustrailrunningconference.com, or 303-304-9159
#TrailConference #trailrunning #snocosports #snohomishcounty #PlayPNWSports #mukilteo #activeataltitude #atra #marathonprinting #TrailRunningIsForEveryBody