US Trail Running Conference Webinar Highlights How Technology Can Help Grow Races
June 14, 2023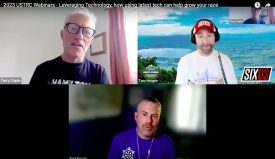 Panelists present innovative platforms to bring more eyes and ears to races and events
Nailsworth, England /ENDURANCE SPORTSWIRE/ – Leveraging Technology was the subject for the fourth webinar in an eight-webinar series produced by the US Trail Running Conference presented by Marathon Printing, and was live on Thursday, May 25. The webinar series is free for all race directors and event organizers to access, and is held in partnership with the American Trail Running Association.
This webinar's panelists featured four individuals who each have experience in successfully implementing different technology platforms that can be used by race organizers. Aric Manning, founder and owner of Trail Manners Podcast, a podcast about rail running, racing and adventures; Paul Kirsch and Tom Hooper, Race Directors for the Sunapee Scramble, where they introduced live streaming to their event this year; and Arash Kia founder and owner of Active Track, a platform that provides live streaming services and other advanced technologies for races.
Aric Manning opened the session detailing how his Trail Manners podcast started. Although he launched the podcast in 2015, it really started a long time before that. Aric had been the manager for the Pearl Izumi running team, working with elite-level athletes including Dave Mackey and Darcy Africa. At that time, "There were only a couple of trail running podcasts out there…and with being really embedded in the community, we decided it would be fun to start our own trail running podcast. It took me six months to research everything I needed to know to get started…by the time we were ready for our first show we recorded it four times because we were so bad at it. It was embarrassing to be honest. We weren't expecting it to take off like it did…we ended up getting messages from literally all over the globe, and that really shook us. "
Manning went on to share what technology he used to get started, how he used a '78 VW bus as a recording studio, and how he believes that his podcasts have helped grow awareness of his race brand, and how this can also be used by other race directors to help grow recognition of their races in a highly competitive marketplace.
Paul Kirsch and Tom Hooper covered what they used for live streaming the inaugural Sunapee Scramble. Hooper shared that, "The number one factor behind the scenes is knowing who is coming to your race. Knowing the background to these athletes, what they have been up to, that fills a lot of dead air. It also depends on how long your distance is. We were fortunate with the Sunapee Scramble that the distances were fairly short, so all the footage was hot and heavy."
Kirsch commented that it is important to consider, "What is your goal with live streaming? Our goal was, it was the US Mountain Running Championships, so we wanted to make sure we had all that knowledge on the top athletes weather we figured that would be their focus. You don't have to be putting on a national championship to want to live stream. Instead you need to identify your goal…maybe your goal is you just have something set up at the finish line so that friends and family can watch their friends finish. This just takes a few cameras and doesn't need a ton of thought, other than checking cell coverage….there is going to be dead air, so what do you fill that dead air with? Do you do slides, course information?…You can also show highlight videos with parts of the course, and use this as an opportunity to grandstand the beauty of that specific race and can add value to your broadcast."
Kirsch and Hooper also discussed costs. Hooper mentioned, "That even for a mom and pop race, where you have cell phones, whatever the software is costing you, your website, YouTube channels are free, I think you can do a really good job with bare bones, volunteers with their phones, and I think that's completely acceptable. You may have to buy some gimbals so they have less bounce, I do think it's possible for everybody to do it if they really wanted to. The biggest cost is likely to be manpower."
Kirsch added, "Included in cost is whether you have cell phone coverage or WiFi, and if you need to budget for a satellite connection?"
On the benefits of live streaming for a race or races, Hooper shared, "For the runners, their parents and loved ones can watch while drinking coffee from home. For the race organization, in the near term, there's not a huge benefit. I think this may be where sponsorship goes. When you have 10,000 viewers on YouTube, does someone start knocking on your door wanting to be your main sponsor? In five years time we will all be fighting for advertising space on this platform. This is why Paul and I started to do this, because we are East Coast races, and East Coast races struggle to get sponsorship. West Coast eats up all the advertising money and we kinda get left behind."
Kirsch added, "Depending on your platform, the videos are out there forever. That's indirect marketing for the next year. People might know about your race who never even knew about it. It's also an opportunity to talk about other events that you direct. You have a captive audience watching, and you can tell them about upcoming events, like a commercial."
Hooper opined,"Elite athletes will have sponsors wanting them to run at certain races because they have live stream coverage there."
In closing, Kirsch mentioned that it is important to, "Realize that if you do decide to live stream, there is work ahead of you. None of it is complicated…keep in mind that if you want to do it successfully, you want to prepare. The preparation doesn't really cost you money, it's more time. You don't need to be a coding expert, you just need to be comfortable around technology. It was uncomfortable initially, however we made it comfortable. It was totally worth it, I think to shoot for it."
Arash Kia, presented on Active Track, a live streaming platform that race directors and event organizers can use to outsource live streaming for their events. Recent events that have benefited from using the Active Track platform have been Chuckanut 50k, Vernonia Marathon, and the Whidbey Island Marathon. In Recent years Kia has spent a great deal of time working out how to bring the race experience of the runners closer to the friends and families. "I wanted to share some information about the solution I have developed. Our technology uses algorithms to manage video signals, and we can go to places where reception is tough, and here we are streaming video from some tough, challenging spots. We have different platforms that are all custom made."
Kia added, "Usually you are not in the driver's seat when you are watching a live stream. For that reason, we throw in options to make it very user friendly. The first is you can choose which camera you want to watch. We generally have a few hotspots along the course. We can also track assets on the course, currently using cell phone tracking. We can track you, and you can decide who you share that with, so friends and family. They see you approaching camera three, and click on that camera. You can go to the race map and see all these assets on the map, and you get to choose which camera to watch. People are hungry for data and information, and we can provide a means of fulfilling that hunger."
Kia shared data on the case studies from the three recent races that have used the Active Track platform. For the Chuckanut 50k, people from 23 countries and 636 towns viewed the live stream. The Vernonia Marathon live stream was watched by people from 27 countries and 342 cities, with a total of 96,000 events viewed related to the assets of the race. The Whidbey Island Marathon was seen by people from 35 countries, and 606 cities.
Kia closed with information on pricing to benefit from the technology his live stream platform can bring to your event. "Our platform is pretty inexpensive, you don't have to spend an arm and a leg to get all these services and the notifications and engagement that I was talking about."
Active at Altitude, organizers of the US Trail Running Conference and the webinar series, reported more than 110 participants registered for the session, representing 28 states, as well as Canada, Austria, Bolivia, New Zealand, Saudi Arabia, Mexico, North Macedonia, Russia and England. A recording of this webinar is available on the US Trail Running Conference YouTube channel at https://youtu.be/DTslLiiZUiY.
The next webinar is titled: Global Campfire – how supporting mental health can grow your race, and takes place on Thursday, June 22, 2023, from 1.00 pm to 2.00 pm MST. Panelists will be Anna Christophorou, Speed Freaks, Aotearoa, Chris Pike, Crater Rim RD, Aotearoa, Mal Law, The WILD, Aotearoa, Sarah Strong, Bigger Than the Trail, Jacob Puzey, 5 Peaks Trail Running Series, & The Running Charity UK, TBA.

Who is this for? Race directors and event organizers who are interested in engaging with local and global mental health communities and attracting more runners to a sport that can help those communities. Registration is free – see https://ustrailrunningconference.com/webinar-series/ for more details.
More info:
For details on the US Trail Running Conference and the webinar series, go to https://ustrailrunningconference.com/webinar-series/
Contact Event Director, Terry Chiplin for further information, terry@ustrailrunningconference.com, or + 44 07474 648250
#TrailConference #trailrunning #snocosports #snohomishcounty #PlayPNWSports #mukilteo #activeataltitude #atra #marathonprinting #TrailRunningIsForEveryBody