UNDRBUDR® Goes "All-In" on Manufacturing and Supply Chain to Meet Demand of Muscle Budr Activation and Recovery Products
May 4, 2022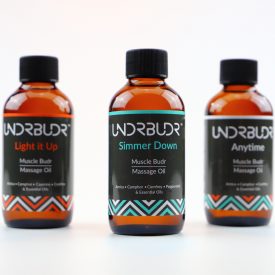 Highlights:
Secured supply chain with US-based organic herbal share crop growers
Scaling up current manufacturing with automation
Touring the US to select a long-term manufacturing site
Montclair, NJ, May, 2022 /ENDURANCE SPORTSWIRE/ – UNDRBUDR, developer of high performance, nature-inspired skincare, activation, and recovery products today announced plans to significantly ramp up manufacturing of their Muscle Budr product line while securing partnerships with growers of critical raw materials used in its formulation.
Rich Ferraro (Rich), Founder and CEO of UNDRBUDR explained, "After decades in the biotech industry I know the importance of getting ahead of demand and the criticality around securing supply chain of high-quality raw materials. Muscle Budr launched in 2021 mid-way through the season, the feedback then from everyday active people to elite athletes was very promising. Since then, demand skyrocketed through winter training and the early '22 spring season. The planning and investments we are making now will allow us to scale as we target additional markets"
Muscle Budr represents years of clinical research, focus group testing, and surveying over 200 athletes. The results the survey conducted by UNDRBUDR of those using topical products with ingredients such as carnosine, CBD, magnesium, and sodium bicarbonate indicated:
Only 20% of users considered these products "Highly Effective"
A significant portion noted variability of results, even for the same brand
Most did not feel they were getting an adequate cost to benefit ratio
Pre-activity products for performance that did help provided little or no post activity recovery benefits
"When developing Muscle Budr, I looked at my own training stress symptoms. Rarely is it just muscle soreness, I deal with back pain, cramping and general inflammation. I wanted to develop something that was not only potent but comprehensive, addressing the many forms of training stress athletes deal with" said Rich while at the Ironman® World Championships in St. George, UT. "Triathletes here don't fall for the hype, they know that time-tested ingredients like arnica, comfrey, and the essential oils found in Muscle Budr really work. We established these recent partnerships with growers around the US to ensure we start from the best raw ingredients and have redundancy of supply"
About UNDRBUDR, LLC (undrbudr.com)
UNDRBUDR develops high performance, nature-inspired skincare to protect active people before during and after exercise. UNDRBUDR continues to set an industry standard by being the first to develop and improve upon performance metrics specific to skincare, activation, and recovery products. UNDRBUDR is also committed to sourcing natural, sustainable ingredients which meet these performance standards rather than chemical or synthetic equivalents wherever possible.