UltrAspire and Brooks Partner for an Athlete Collaboration
May 12, 2022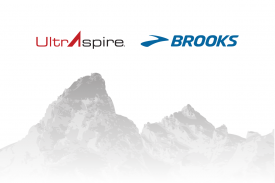 UltrAspire outfits the Brooks Athlete Team with gear
/ENDURANCE SPORTSWIRE/ – As a young man Bryce Thatcher found his passion for moving quickly and efficiently in the mountains. At that time, there were limited options for mountain running gear which led Bryce to design and build his own. Among his custom equipment, Bryce wore a pair of Brooks Vantage running shoes during his record ascent up the Grand Teton. In the intervening years, Bryce and Brooks have continued to hone and innovate their respective spaces. Now leaders in the industry, their paths are crossing again.
UltrAspire has been introducing concepts to drive the running industry forward since the company's inception in 2012. Owner and founder, Bryce Thatcher, known as the "Father of Hydration" has designed hundreds of products over his 35-year career that have shaped the evolution of hydration carry options to the present day.
When asked about the UltrAspire and Brooks collaboration Kevin Robison, UltrAspire President and Head of Sales, answered. "As a growing company in the space, it's great to partner with such an established brand where we are able to show that we both make some of the best gear in the industry."
"Per Bryce's history, and the foundation in which we have built the brand, this partnership just makes so much sense in its authenticity. Bryce utilized Brooks to accomplish an incredible feat so many years ago, and to be able to return that type of passion and dedication into the gear Brook's athletes are now wearing feels very genuine." -Joe Petty, Vice President of Marketing, said.
We are thrilled to announce a collaboration with Brooks Running. UltrAspire is outfitting the Brooks Athlete Team with gear inspired by the same passion that propelled Bryce to the mountains 40 years ago. Like back then, today's athletes continue to push the limits of human endurance, and we're excited to push forward with a company that shares so much of our history and purpose.
About UltrAspire:
UltrAspire is a high-performance, innovative outdoor gear company. From competitive endurance sports to the casual adventurer, UltrAspire keeps to a very important code which is to create an inspired outdoor experience. Gear up with UltrAspire and experience the difference at www.ultraspire.com
About Brooks
Brooks Running sells its performance footwear, apparel, run bras, and accessories worldwide. Brooks' purpose is to inspire everyone to run their path by creating the best gear, tools, and experiences. Founded 1914, Brooks is a subsidiary of Berkshire Hathaway Inc. and is headquartered in Seattle. Visit http://www.brooksrunning.com/ for more information or follow @brooksrunning.