Ultra X and Ecolibrium Partner to Drive Sustainable Racing
September 7, 2023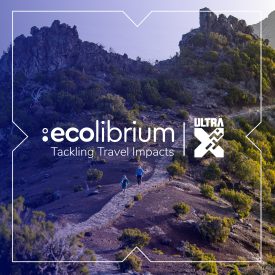 /ENDURANCE SPORTSWIRE/ – Ultra X, a prominent name in the world of ultramarathon events, is excited to announce a partnership with ecolibrium, a growing community of festivals, suppliers, artists and music companies taking action to reduce the environmental impacts of travel, the largest source of emissions from live events.
The collaboration underscores both organizations' commitment to fostering responsible event management, championing environmental awareness, and contributing to a greener future.
Travel is typically the largest source of emissions from live events and this partnership aims to tackle these impacts by educating competitors about the impact of travel and incentivising competitors the chance to support environmental restoration projects to balance unavoidable travel emissions.
As a leading organizer of multi-stage ultra-marathons across diverse and breathtaking global locations, Ultra X has been at the forefront of making extreme running accessible to a wide range of athletes. Ultra X recognizes that, while participants undertake these challenging events to push their limits and explore incredible landscapes, the environmental impact of such races cannot be overlooked.
Ecolibrium, with its innovative carbon offset tools and sustainability initiatives, aligns perfectly with Ultra X's mission to integrate eco-consciousness into their events. Ecolibrium's Travel Carbon Calculator, a user-friendly tool that accurately measures the carbon footprint of travel, will be integrated into Ultra X's event registration process. This will empower participants to offset the carbon emissions generated from their travel to and from the races.
Going forwards all competitors at Ultra X events globally will have the option to make a 'carbon balancing donation' at check out and ecolibrium will channel the donation to community-scale, community-benefit renewable energy generation projects or to projects that restore and protect threatened ecosystems. Ultra X will commit to offering the equivalent donation amount as race credit for future Ultra X events.
Ultra X will also be communicating ecolibrium's Travel Carbon Calculator to work out exact emissions and balance them with a donation.
Ultra X's collaboration with ecolibrium doesn't stop at carbon offsetting. The partnership will also involve educational initiatives, environmental awareness campaigns, and community engagement programs that focus on the preservation of the stunning natural landscapes where the events take place.
Sam Heward, Co-Founder of Ultra X, expressed the significance of this partnership, stating, "While we create life-changing experiences through our events, we also recognize the imperative to mitigate our environmental impact. Teaming up with ecolibrium allows us to take tangible steps towards a more sustainable future for endurance sports."
"Ecolibrium are proud to be part of Ultra X's ambitious sustainability strategy by giving race participants the option to make positive climate investment to tackle their travel impacts. Ultra X's mission to deliver engaging experiences that positively impacts their community, host countries, and the planet, aligns with ecolibrium's vision of uniting event communities in environmental restoration." Bethan Riach, Communications Manager, ecolibrium.
For further information and media inquiries, please contact:
Sam Heward, Co-Founder of Ultra X, at sam@ultra-x.co or +447585707521
About Ultra X:
Ultra X organizes a series of multi-stage ultra-marathons in some of the world's most remarkable locations. Committed to creating transformative experiences, Ultra X provides unparalleled support to participants, making these events accessible to all. From the picturesque landscapes of the Peak District to the captivating sand dunes of Morocco, Ultra X offers life-changing running adventures every year.
Website: www.ultra-x.co
About Ecolibrium:
Ecolibrium is a live events industry response to the climate crisis – a community of events, festivals, suppliers, artists and music companies taking action to reduce travel impacts by moving climate action and low carbon travel into the heart of live events culture and investing in environmental restoration. Since 2015 ecolibrium has worked with over 150 members to balance the carbon emissions from over 32 million travel miles. They provide resources, tools, advice and inspiration to reduce travel emissions and invest in environmental restoration supporting ecosystem protection, regeneration and clean energy generation.
To find out more: www.ecolibrium.earth