Ultimate Direction Propels into 2023 with Athlete Team, Race Wins, and Athlete Summit
February 21, 2023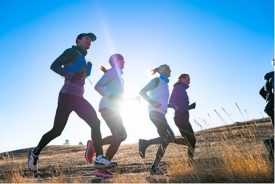 The team champions returning athletes who are committed to play and community
BOULDER – February 21, 2023 /ENDURANCE SPORTSWIRE/ – Ultimate Direction, a Colorado-based brand that designs innovative apparel and gear for self-propelled athletes of all levels, is proud to announce its 2023 athlete roster of road and trail runners and FKT-setters. Celebrating the unique pursuits and interests in the sport of running and fastpacking, the brand has selected 17 athletes who are committed to living life with play and passion while exemplifying dedication to their individual sports and communities.
This announcement comes at an exciting time after recent race wins including Jeff Colt's first place overall and Nicole Bitter's second place female overall podium at the 2023 Bandera 100K, Joseph Gray's first place podium win at United States Snowshoe Association's National Championship race, and Ryan Montgomery's third place male overall podium at Tarawera Ultramarathon by UTMB 102K. The brand also just hosted its first Athlete Summit since 2019 where it brought eight athletes into its headquarters for product development and field testing, as well as team community-building. The rest of the team will be involved in the product development and feedback process at a virtual summit on February 28.
"Building a team of skill, strength, passion, and community that we can nurture and support this year was our top priority," shared Robyn Howard, Director of Brand and Marketing for Exxel Outdoors, Inc. "We are impressed by our team members' performances on and off the trail- from working to build community within their neighborhoods and to training for top performances at this year's notable events, we know the team will shine."
2023 Athlete Roster:
Amelia Boone, Ultrarunner and OCR.
Cameron James, OCR.
Grayson Murphy, Trail, road, and track runner.
Jacky Hunt-Broersma, Trail and ultrarunner.
James Lauriello, FKT-setter and trail runner.
Jason Schlarb, Trail and ultrarunner.
Jeff Colt, Trail and ultrarunner.
John Kelly, FKT-setter, trail, and ultrarunner.
Joseph Gray, road and trail runner.
Justin Simoni, FKT-setter and trail runner.
Kriste Peoples, Trail runner.
Kyle Robidoux, Trail and ultrarunner.
Nadia Ruiz, Trail and road runner.
Nicole Bitter, Traill and ultrarunner.
Ryan Montgomery, Trail and ultrarunner.
Tara Warren, FKT-setter, trail, and ultrarunner.
Zach Bitter, Road, trail, and ultrarunner.
Learn more about each individual athlete's accomplishments and 2023 goals here. Throughout the year, Ultimate Direction will be highlighting each athlete's individual journey and contributions to their sport and community through its social media channels.
For more information on Ultimate Direction, please visit ultimatedirection.com or contact Mindy Smith at mindy@darbycommunications.com.
###
About Ultimate Direction
In 1985, Ultimate Direction invented the first waist pack for carrying bottles. A few years later, they designed the first hand-held water bottle carrier and numerous innovations defining the hydration pack category for endurance and every-day athletes. Over 30 years later, the brand remains the authority on hydration for self-propelled activities and critical to the world's most passionate athletes. Ultimate Direction is headquartered in Broomfield, Colorado. Visit www.ultimatedirection.com for more information.