Tough Mudder and Contiki Team Up to Offer Sweepstakes Giveaway for an Adventure-Filled Weekend
March 15, 2022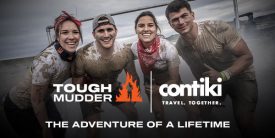 The social travel operators and endurance event specialists have joined forces to announce two exclusive active adventures in the USA
BOSTON, Mass. (March 15, 2022)/ENDURANCE SPORTSWIRE/ – Contiki, the social travel operator, has teamed up with Tough Mudder, the global leader in obstacle course adventures, to host a sweepstakes giveaway for an adventure-filled weekend. Running today through April 5, 2022, the sweepstakes offers a chance for you and a friend to win a spot on an active adventure trip.
The sweepstakes is part of a new collaboration between Contiki and Tough Mudder to elevate the weekend experience by exploring local destinations and making unique connections and lifelong friends. So, with thrill-seeking adventurers ready to get back out into the world, Contiki and Tough Mudder are offering two unique experiences in 2022:
Nashville (June 25 – 29, 2022): After conquering the Tough Mudder event, travelers can hike, learn how to distill whiskey, and sleep under the stars in deluxe canvas tents. With an on-site massage therapist, there's plenty of time for much-deserved R&R while Dollywood Theme Park is an option for the thrill-seekers.
Sonoma (August 27 – 31, 2022): Travelers can celebrate tackling their Tough Mudder in a region of word-class wine and Yosemite National Park. Options include relaxing at the lake-side accommodation, enjoying dinner at a local winery or soaring over Sonoma by balloon. There's also a hike in Yosemite, for those wanting a (less muddy) connection with nature.
With its 5K, 10K and 15K events, Tough Mudder offers distances for every adventure level. Travelers will have the opportunity to select the distance that's the best fit for them.
Rachel Storey, Contiki's head of brand partnerships said, "we're so excited to kick off our partnership with Tough Mudder. Our brand values are such a natural fit: adventure, friendships, teamwork, getting out of your comfort zone and trying new things. We're looking forward to launching these two departures in the US, with hopefully more to come soon."
"Adventure doesn't stop at the finish line of a Tough Mudder weekend, and Contiki is the perfect partner to help spread this message," said Tough Mudder CEO Kyle McLaughlin. "Our obstacle courses are best done with others, the same ethos that Contiki encourages on their departures. We are thrilled to be blending the two platforms to offer adventure seekers the experience of a lifetime, outside of your traditional weekend."
To learn more about Contiki and Tough Mudder travel experiences, visit www.contiki.com/us/en/activity/tough-mudder.
Images
– Ends –

ABOUT CONTIKI
Contiki are the world leaders in social youth travel. We've been providing amazing travel experiences for young travelers, from 18-35 years old, since 1962. Imagine how good you would be at something if you had been doing it for more than 60 years?
Everything about Contiki is deeply rooted in our core values 'Make Every Moment Count' and 'We're about people'. We don't just talk the talk, we walk the walk and live by our brand philosophy of 'Travel.Together.' which means to travel with one another, the destinations we visit, the cultures we enjoy and the environment, too.
ABOUT THE TRAVEL CORPORATION
The Travel Corporation (TTC) is a highly successful, stable, and solvent family-owned and passionately run international group of 40 award-winning brands, which celebrated its first 100th Anniversary in 2020. Our exceptional portfolio of brands spans across 70 countries and offers an extensive selection of international travel and tourism companies, encompassing a variety of guided travel experiences, independent holiday packages, boutique river cruising, luxury hotels and safaris. We are committed to consistently delivering outstanding service, experiences and value to each and every one of our guests and we do so through continuous innovation. Beyond our commitment to provide the world's leading holiday experiences, TTC reassures travelers in these uncertain times that their future travels are safe with us. The financial strength and future longevity of the business is backed by the transparent exposure of the companies Red Carnation Hotels unencumbered fixed assets in excess of US$300,000,000 as of December 31, 2019. For more information, please visit TTC.com or follow us on Twitter and Instagram while using our hashtags #TravelWithTTC and #MakeTravelMatter.
CONTIKI CARES, POWERED BY TREADRIGHT
Contiki is a founding partner of TreadRight, a not-for-profit foundation established by The Travel Corporation in 2008 to encourage sustainable tourism within its family of amazing travel brands. The TreadRight Foundation supports projects that help the environment, protect and conserve ecosystems, and benefit communities. See more about TreadRight at The TreadRight Foundation – TTC – Make Travel Matter
ABOUT TOUGH MUDDER
Founded in 2010, Tough Mudder is a leading global sports and active lifestyle brand that creates the world's most extraordinary adventures and champions the power of teamwork. With more than 6 million participants, the company hosts more than 130 challenges (Tough Mudder Kids, Tough Mudder 5K, Tough Mudder 10K, and Tough Mudder 15K) and endurance (Tough Mudder Infinity, Toughest Mudder and World's Toughest Mudder) events annually in 10 countries. The company's content studio fuels  a global movement of people who work together to uncover their hidden potential, providing millions of engaged online brand enthusiasts with wellness, nutrition and inspirational content delivered daily across social and digital platforms. More than 500,000 new participants are welcomed to the global Tough Mudder community every year. The company is part of the Spartan global family of extreme endurance properties.
For more information visit www.toughmudder.com.
For more information please contact: Emily Escovar: emily.escovar@toughmudder.com