Tokyo Marathon Six Star Finishers set a new GUINNESS WORLD RECORDS™ title
March 7, 2023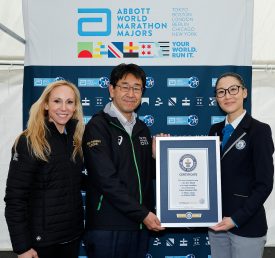 More than 3,000 runners collect the coveted Six Star medal
March 7, 2023 /ENDURANCE SPORTSWIRE/ – The 2023 Tokyo Marathon set a new Guinness World Records title for the most people to earn a Six Star medal at a single marathon, on Sunday in Tokyo.
3,030 runners completed the race to earn their Six Star Medal, smashing the previous highest total set in Tokyo in 2019 of 732 and establishing the first official world record for the Six Star program. Among them, 40 runners were completing the journey for a second time; five for a third and one runner was going round the series for an incredible fourth time.
Many of the runners participating in the record had waited for this moment since first earning a place in the 2020 race, which was reduced to an elite only field as the COVID-19 pandemic emerged to curtail international travel and mass participation events all over the world.
Runners continued to wait through 2021 and 2022 before travel restrictions for Japan were relaxed to allow overseas visitors to enter the country.
It resulted in a major spike in Six Star Finisher numbers for the 2023 race and a landmark day in the Japanese capital.
The influx of new members of the Six Star Hall of Fame means the total on record has surpassed 11,000 runners.
An official presentation was made at the end of race day to mark the occasion. Vice President of the Tokyo Marathon Foundation, Mr Sasaki; along with CEO of the Abbott World Marathon Majors Dawna Stone accepted the certificate from Fumika Fujibuchi of Guinness World Records Japan.
Dawna Stone, CEO of Abbott World Marathon Majors said, "What a day we had at the 2023 Tokyo Marathon – celebrating more than 3,000 runners completing their Six Star journey and setting a new Guinness World Record in the process. It was incredibly emotional for all who were involved, and I am so happy for everyone who can now say they are part of a world record!"
One of the runners getting their second Six Star medal, Ron Romano said, "Being part of the Guinness World Records attempt today in Tokyo was something I will never forget. Running for my second Six Star medal but also knowing I was part of an extra special group of finishers trying to accomplish something extra was an added boost to get me over the finish line."
Another Six Star Finisher, Manal Rostom, who became the first Egyptian female to collect the Six Star medal said: "I am so proud to have set a new world record with thousands of other runners on Sunday. It was an amazing day and having that title on top of being a Six Star Finisher makes it extra special. I will never forget it."
Runners will now be able to purchase their own personalized GUINNESS WORLD RECORDS™ certificate of participation to commemorate their achievement.
– END-
For AbbottWMM media inquiries, please contact:
Lorna Campbell
Head of Communications, Abbott World Marathon Majors
For Guinness World Record media inquiries, please contact:
Doug Male
Director of Brand Communications, Guinness World Records
Doug.Male@guinnessworldrecords.com
Press@guinnessworldrecords.com
Notes to editors:
ABOUT ABBOTT WORLD MARATHON MAJORS
The Abbott World Marathon Majors (AbbottWMM) is a series of six of the largest and most renowned marathons in the world – Tokyo Marathon, B.A.A. Boston Marathon, TCS London Marathon, BMW BERLIN-MARATHON, Bank of America Chicago Marathon and TCS New York City Marathon.
Encompassing an annual series for elite runners and elite wheelchair athletes, AbbottWMM also applauds the achievements and passion of everyday champions from around the world. The AbbottWMM Six Star System is an online results hub that celebrates every runner who has completed from one to six of the races in the series and encourages them to 'Reach for the Stars'.
The AbbottWMM launched the AbbottWMM Wanda Age Group World Rankings in 2018 and the third AbbottWMM Wanda Age Group World Championship race will take place on October 08, 2023 as part of the Bank of America Chicago Marathon.
The AbbottWMM Global Run Club launched in August 2020 and aims to bring together the global community of marathon runners on a virtual platform.
For more information, visit www.Abbottwmm.com
ABOUT GUINNESS WORLD RECORDS
What's the fastest game bird in Europe? This was the question that inspired the founding of Guinness World Records back in 1955. Starting with a single book published from a room above a gym, GWR has grown to become a global multi-media brand, with offices in London, New York, Beijing, Tokyo and Dubai. Today, we deliver world-class content, not just through books, but via TV shows, social media and live events.
Our in-house consultancy works closely with brands and businesses around the world to harness the power of record-breaking and deliver award-winning campaigns and business solutions.
Through our in-house production arm, GWR Studios, we create standout content for broadcasters, brand partners and digital platforms.
Our Entertainment Services division brings the best of the GWR brand to life in a diverse range of live experiences where visitors can discover and even attempt official world records. Whatever the medium, our ultimate purpose is to make the world a more interesting, fun and positive place.
To join this record-breaking community – and find out the answer to that original question – visit guinnessworldrecords.com.
ABOUT ABBOTT
Abbott is a global healthcare leader that helps people live more fully at all stages of life. Our portfolio of life-changing technologies spans the spectrum of healthcare, with leading businesses and products in diagnostics, medical devices, nutritionals and branded generic medicines. Our 115,000 colleagues serve people in more than 160 countries.
Connect with us at www.abbott.com, on LinkedIn at www.linkedin.com/company/abbott-/, on Facebook at www.facebook.com/Abbott and on Twitter @AbbottNews.