Tifosi Optics includes Rail Race as part of its regular product offerings
April 13, 2023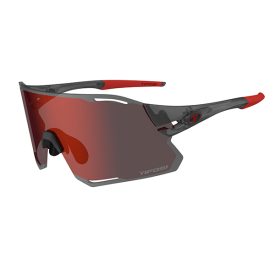 Back by popular demand, the Rail Race offers a sleek shield design in a lightweight package
Watkinsville, GA (April 13, 2023)  /ENDURANCE SPORTSWIRE/ – Tifosi Optics, the #1 selling brand of cycling eyewear in the United States, is excited to re-release its once limited edition Rail Race as part of its full-time lineup. Popular amongst cyclists but equally functional for other endurance pursuits, the Rail Race offers a lightweight package that maximizes protection, airflow, and all-day comfort.
The Rail Race originally launched in October 2022 as an elevated version of the best-selling Rail, which debuted the spring prior. The limited edition collection received overwhelming success, selling out in just 5 weeks.
Now part of Tifosi's core endurance eyewear collection, the Rail Race features an oversized rimless shield (131mm x 59.5mm) and weighs just 32g, providing cyclists and endurance athletes with a minimal weight frame and maximum protection against debris. It improves upon the high-performing ventilation of the original Rail's rimless design and includes new top and bottom vents to increase airflow and limit fogging. Laser etching also sets the Rail Race apart with sleek, polished style.
In addition to rimless construction, the Rail Race features the same high-quality construction that fans of Tifosi Optics have come to expect – Grilamid TR-90 frames, adjustable nose and ear nose pieces for customized fit, hydrophilic rubber nose and ear pieces that improve grip as you perspire, and shatterproof, scratch-resistant polycarbonate lenses.
Even while incorporating the best-in-class materials, Tifosi will offer the Rail Race at an affordable price of $79.95. No matter which lens or frame color athletes choose – including Crystal Clear and Matte White – each model includes two interchangeable lenses (shaded and clear) for bright and low light scenarios.
"When we originally launched the Rail Race as a limited edition in October, we knew it would be popular, but we weren't expecting it to sell out so quickly," commented Tifosi Owner, Joe Earley. "We're thrilled to add it to our full-time roster in time for riders to get their hands on a pair ahead of the spring season," Earley continued.
The Rail Race will be available online and through retailers on April 13, 2023. For more information, please visit: http://www.tifosioptics.com.
ABOUT TIFOSI OPTICS:
Tifosi is the Italian word for Super-fan. That is exactly who we are and who we make our eyewear for. Our mission is to provide technically advanced eyewear to enthusiasts of all sports and outdoor activities. We design, test, and torture our product to enhance your sport whether you're running a 5k, riding your first century, or playing 18 holes on Sunday. Tifosi defines us. We are enthusiastic about our product, our sport and our fun. We are moms, dads, coaches, players, volunteers, survivors, team, success, and family. We are Tifosi. To learn more about Tifosi, please visit: http://www.tifosioptics.com