Tifosi Optics Celebrates Earth Week with the Arbor Day Foundation
April 16, 2022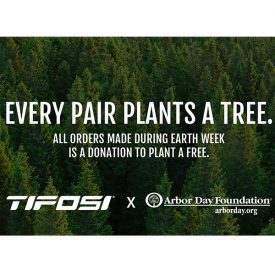 One tree will be planted for every sunglass purchase made on Tifosioptics.com
Watkinsville, GA (April 16, 2022)/ENDURANCE SPORTSWIRE/ – Tifosi Optics, a leading sport and lifestyle sunglasses brand, has partnered with the Arbor Day Foundation during Earth Week (April 16-22) to plant one tree for every sunglass purchase made on TifosiOptics.com.
As a brand that designs and manufactures superior optics, Tifosi recognizes clean air as an essential part of the shared outdoor experience. Whether cycling, running, or walking with friends, people depend on clean air to maintain their health and to reach their peak performance.
For 50 years, the Arbor Day Foundation has planted over 500 million trees in more than 50 countries to help filter air and water, provide healthy habitat for wildlife, and to slow the effects of global climate change. Recognizing the importance of the Arbor Day Foundation's mission, Tifosi is excited to align an Earth Week initiative that will help the organization continue its impactful work.
"The health and well-being of our customers and employees is inextricably linked to clean air," commented Joe Earley, Tifosi Optics CEO. "Bringing awareness and paying it forward during Earth Week is something that Tifosi has championed from day one of the brand," Earley continued. "We spend a great deal of time selecting the right partner, and with a lasting legacy and proven track record, the Arbor Day Foundation was an obvious choice for 2022."
Regardless of style, Tifosi will donate $1 for every sunglass purchase to the Arbor Day Foundation between April 16 and April 22, 2022. Each dollar donated by Tifosi will result in one tree planted by the Arbor Day Foundation in projects throughout the world.
For more information, please visit: http://www.Tifosioptics.com
ABOUT TIFOSI OPTICS:
Tifosi is the Italian word for Super-fan. That is exactly who we are and who we make our eyewear for. Our mission is to provide technically advanced eyewear to enthusiasts of all sports and outdoor activities. We design, test, and torture our product to enhance your sport whether you're running a 5k, riding your first century, or playing 18 holes on Sunday. Tifosi defines us. We are enthusiastic about our product, our sport—and our fun. We are moms, dads, coaches, players, volunteers, survivors, teams and families. We are Tifosi. To learn more about Tifosi, please visit: http://www.tifosioptics.com