Thousands of Surf-N-Santa 5 Miler Participants Don Hawaiian Shirts as they Coast Down The Virginia Beach Boardwalk under Holiday Lights
December 17, 2022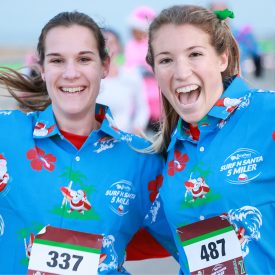 DECEMBER 17, 2022 – VIRGINIA BEACH, VIRGINIA /ENDURANCE SPORTSWIRE/ – Over 3,500 runners dashed their way down the brightly lit Virginia Beach Boardwalk during the BayPort Foundation Surf-N-Santa 5 Miler presented by Bon Secours. Many runners wearing their branded Surf-N-Santa 5 Miler Hawaiian Shirt.
The race kicks off in front of the Virginia Beach Convention Center and participants make their way down to the Virginia Beach Boardwalk where they run underneath the thousands of holiday lights that adorn the boardwalk. Participants are treated to jumping fish, musical crabs, jolly elves and a 40-foot dancing-light Christmas tree. Before exiting the boardwalk, participants came across a gingerbread cookie stop with fresh cookies from Baker's Crust.
Participants made their way back to the finish line outside the Virginia Beach Convention Center and were welcomed by volunteers inside serving up warm chicken ramen soup, cold beer and hard cider. The post-race celebration also included upbeat and festive music from Tiki Bar Band.
"There is no better way to close out the year then with this race. The Surf-N-Santa 5 Miler has become part of runner's holiday tradition and they also bring so much energy and holiday cheer" says co-race director, Jerry Frostick
Before Saturdays 5 Miler, over 150 kids took part in Rudolph's 1K. Children of all ages made their way through the 1K course at the Virginia Beach Convention Center. Their excitement for the event was the perfect way to kick off the event and each child finished with their own Rudolph 1K medal.
5 Miler Winners: Peter Lomong, Fort Union, VA, 24:26 was the first male to finish smashing all previous Surf-N-Santa 5 Miler event records with a pace time of 4:53. Paige Kouba, Davis, CA, finished 29:54 as the female finisher.
__
About J&A Racing
J&A Racing is a nationally recognized race management company based in Virginia Beach, Virginia. With a portfolio of seven events, J&A Racing's mission is to promote and support healthy lifestyles and the sport of running through all stages of life. Since 2003 when J&A Racing owners, Amy and Jerry Frostick, took over the Shamrock Sportsfest, the Yuengling Shamrock Marathon Weekend has become one of the most popular running events in the country growing from 3,000 participants to a record 30,000 in 2015. Additionally, J&A Racing organizes the Old Point National Bank Wicked 10K; the Big Blue 5K; the BayPort Credit Union Surf-N-Santa 5 Miler; the BayPort Foundation Crawlin' Crab Half Marathon & 5K; the Chartway Norfolk Harbor Half Marathon Weekend; and the ADP Corporate 5K. For more information on J&A Racing's events, visit jandaracing.com.
###