Thömus USA Taps SIMBOL Communications as North American PR Agency of Record
June 28, 2023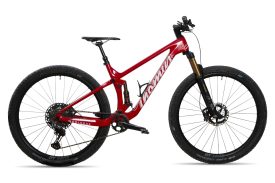 Renowned Swiss e- and performance-bike brand aims to grow awareness for brand and flagship CA store; ecomm launch also imminent
Santa Monica, California June, 2023 /ENDURANCE SPORTSWIRE/ – Backed by a brand heritage of design and technology – plus countless World-Cup-level results, such as Lars Forster's win at last weekend's Leogang XCO event – Thömus USA, the North American manufacturer and retailer of Thömus SA bicycles of Switzerland, has teamed up with SIMBOL Communications for marketing and media relations in North America.
Through media relations and a matrix of related marketing actions, Thömus USA, which launched here in late 2022, plans to create a strong brand identity and awareness across North America for the Thömus line of exceptional e-bikes and road, gravel and mountain bikes, along with its flagship retail store in Santa Monica, CA. To that end, SIMBOL will handle media relations in North America for Thömus USA, and also support local and national marketing initiatives.
Long renowned across Europe and other regions, Thömus bicycles are known for design innovation: from their World-Cup-winning Lightrider World Cup, to the Sliker Pro, the first performance road bike with full integration, to the Lightrider E2 Pro, an e-MTB with massive power, range, and superb agility.
Casper Casparian, CMO for Thömus USA, sees media exposure as a key element in that effort. "In Switzerland, and Europe at large, especially among MTB World Cup enthusiasts, Thömus has a well-deserved reputation for making world-class bikes that are unparalleled by any bike company, anywhere," he says. "We're confident that SIMBOL can help us create that same level of respect and awareness across North America, that Thömus bikes and retail services deserve."
The Thömus brand was founded in Switzerland in 1991, quickly earning its reputation for dedication to custom-tailoring bike models and spec for each individual rider. Thömus USA opened its doors in 2022 as the exclusive manufacturer and retailer of Thömus bikes in North America.NA retailer, which they remain today. Along with the current marketing push, the brand is putting final touches on an ecommerce platform, to launch within a few weeks.
Here's some info on just two of the bikes in the Thömus line:
Sliker X Ultimate (from $6000): Versatile, comfortable and lightweight, the Sliker X Ultimate fits your every adventure: 2-speed or 1-speed drive; mechanical or electronic shifting; city kit or racing setup; tire width up to 50mm. Cables, seat clamp, thru axles and carbon bottle cage are integrated into the frame or handlebars. The sloped top tube, yielding a low standover height, increases confidence in varied terrain. A variety of eyelets and attachment points allow for accessories for your bikepacking trip or other adventures – like commuting to work in city traffic! The Sliker X Ultimate is the bike for your life.
Longrider E2 (from $7950): The Longrider line of e-bikes offers maximum flexibility and is unique in its geometry and ergonomics, and unbeatable in terms of range. They offer the comfort of a city runabout combined with the fun of a mountain bike, the endurance of a touring bike, and a simple, elegant design. The lightweight yet sturdy carbon frame guarantees dynamic handling in any application, no matter how varied. Available in the classic frame or a comfortable step-thru version, and can be built with or without a suspension fork. Also available with optional fenders and luggage rack with the 'city kit' build.
For media inquiries, please contact: Scott Boulbol, scott@simbolpr.com; or Nic Sims, nic@simbolpr.com
For anything else, please contact: Casper Casparian, casper@Thömus.com
About Thömus USA: Thömus USA is a retailer and manufacturer of world-class road, mountain, and gravel bikes, including e-bikes, designed by Thömus SA of Switzerland. Thömus USA was founded in 2021, and operates a flagship retail boutique on Montana Avenue in Santa Monica, California. Learn more at thomus.com
About SIMBOL Communications: SIMBOL Communications formed to help brands tell truthful, authentic stories in the outdoor, cycling, and fitness industries, through exposure in a wide variety of media outlets, developing creative content and sports marketing services. With their multiple decades of relevant experience — as both industry professionals and competitive enthusiasts — the founders of SIMBOL have all the tools to get powerful stories to the right audience.