The Running Event Names Low Impact Alliance Environmental Impact Partner
September 13, 2023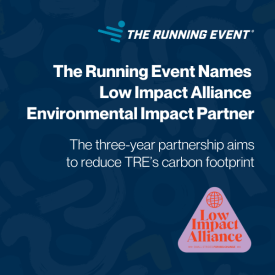 The three-year partnership aims to reduce TRE's carbon footprint and help set a new standard for responsible event management
PORTLAND, Maine (September 13, 2023)/ENDURANCE SPORTSWIRE/ – The Running Event (TRE), North America's premier specialty retail conference and tradeshow, has named the Low Impact Alliance (LIA) its Environmental Impact Partner. The Running Event will take place November 28-30 at the Austin Convention Center in Austin, TX.
The LIA is a collective of retailers, athletes, and brands committed to bringing on environmental responsibility and change within the running industry. Throughout a three-year partnership, the LIA will assist and consult with TRE to implement new onsite initiatives, operational changes, and exhibitor protocols leading up to and during the event.
"The LIA has been doing critical work in the industry and with The Running Event since 2021, but this marks our most impactful partnership to date," said Christina Henderson, Event Director, TRE. "While sustainability has always been a goal at TRE, incorporating the LIA's expertise more intentionally this year has allowed us to implement meaningful changes while realizing new, creative ways we can reduce our environmental footprint."
"This partnership marks a significant step forward in our commitment to environmental responsibility and underscores our dedication to reducing the industry's collective carbon footprint," said Christian Fyfe, Co-Founder, LIA. "Our multifaceted approach to TRE includes initiatives across operations, educational programs, exhibitor and attendee engagement and responsibilities, as well as onsite experiences and events."
Some of the sustainable initiatives that will be implemented at TRE this year include recycling bins for shoes, apparel, socks, and other discarded booth materials, the forgoing of medals at the annual Indie 5K, a trail cleanup to give back to the Austin community, compostable utensils in the food court, encouraging digital media kits, and more. TRE will continue offering tools to support doing business at TRE in a more sustainable way and invites both attendees and exhibitors to join these efforts.
"We are poised to help set a new standard for responsible event management," said Fyfe. "It's time for us to come together as an industry and take responsibility for our environmental impact, ensuring that future generations have a healthy planet to run on."
Register for The Running Event 2023
Access all education, networking, and the exhibit hall with one simple pass. Click here to register.
For media inquiries, please contact Gordon Wright | Gordon@OutsidePR.com
About The Running Event
Launched in 2006, The Running Event (TRE) is North America's premier specialty retail conference and trade show. Each year, it attracts thousands of industry professionals seeking the latest in footwear, apparel, gear, and services. In 2022, TRE launched Switchback at The Running Event: an exhibit hall expansion showcasing outdoor brands. With numerous opportunities for peer learning, interactive and forward-looking conference programming, and dynamic product demonstration and discovery, TRE is the can't-miss trade show for run and outdoor specialty. For more information, visit www.therunningevent.com.