The Running Event Announces the Best Running Stores of 2023
July 27, 2023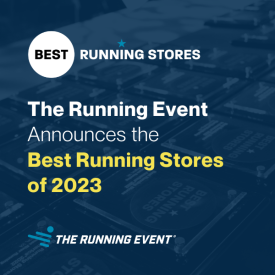 Annual awards program will recognize America's top run specialty stores at #TRE23 in Austin, TX this fall
PORTLAND, Maine (July 27, 2023)/ENDURANCE SPORTSWIRE/ – The Running Event (TRE), North America's premier specialty retail conference and trade show, today announced the winners of its 2023 Best Running Stores awards program. The winning retailers will be celebrated November 30 at the 2023 Industry Awards Dinner during The Running Event in Austin, TX.
"Talent, passion, and community are the building blocks that make our industry so strong," said Christina Henderson, Event Director, The Running Event. "The 2023 Best Running Stores exemplify each of these characteristics and more, and they should be incredibly proud of the work they do. When we come together to honor these retailers in November, we will be celebrating not only the 2023 Best Running Stores, but our entire industry and its continued growth."
After opening nominations in February, The Running Event team received more than 12,500 nominations—representing 500 unique retailers across the US—from customers, brands, and industry professionals. A detailed evaluation process examined stores' community impact, employee benefits and career opportunities, special initiatives, and more. Selected stores were then assessed by a secret shopper and graded on in-store experience. The 2023 Best Running Stores went above and beyond in every step of the process.
"Each year, these stores and the individuals behind them remind us of the positive difference run specialty can make not just within the industry, but within the communities and lives of the customers they serve," said Henderson. "We're already looking forward to celebrating in person—and announcing the Store of the Year—this fall!"
Each winning store will receive two free passes to The Running Event, including hotel accommodations. The reception will be open to all event attendees and exhibitors at an additional cost.
See the full list of 2023 Best Running Stores here.
For media inquiries please contact OutsidePR Partner & Founder, Gordon Wright | Gordon@OutsidePR.com
###
About The Running Event
Launched in 2006, The Running Event (TRE) is North America's premier specialty retail conference and trade show. Each year, it attracts thousands of industry professionals seeking the latest in footwear, apparel, gear, and services. In 2022, TRE launched Switchback at The Running Event: an exhibit hall expansion showcasing outdoor brands. With numerous opportunities for peer learning, interactive and forward-looking conference programming, and dynamic product demonstration and discovery, TRE is the can't-miss trade show for run and outdoor specialty. For more information, visit www.therunningevent.com.